A leaked service manual of the LG-D821 a.k.a. Nexus 5 reveals most of what there is to know about the device - design, specs and even how to open it.
We already knew the most important features from various leaks, but here is the real deal. The Nexus 5 packs a 4.95" 1080p IPS display and runs on the Snapdragon 800 chipset with a quad-core 2.3GHz Krait 400 CPU, Adreno 330 GPU and 2GB of RAM. It has a 1.3MP front camera, an 8MP OIS camera with a LED flash at the back and a 2300mAh battery underneath the rear cover.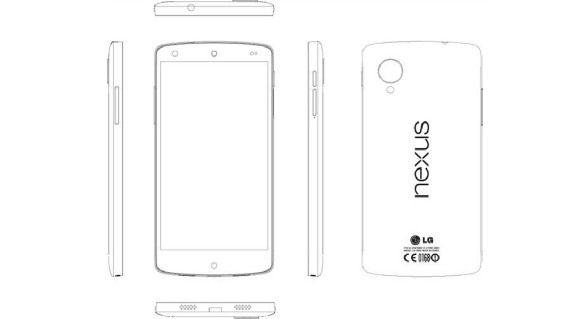 According to the service manual,the Nexus 5 supports GSM, 3G, CDMA and LTE connectivity plus NFC and Bluetooth 4.0. The phone also comes with a Slimport-enabled microUSB and wireless charging support. As it turns out the Nexus 5 will come in 16GB and 32GB flavors, but as was to be expected there is no option for memory expansion.
The last notable specs are the notification LED and the microSIM slot. Android 4.4 KitKat will be in charge of operations, of course.
There are a few pictures of the Nexus 5 itself in the manual and we've extracted those for you.
Here is the full manual if you are interested in all details and technicalities.
The Nexus 5 is rumored to launch on October 30, so we are not far from its official announcement.
Thanks everyone who sent this in!
D
I agree, the Nexus 4 had a bad camera and bad battery life, but you should check out the Nexus 5 and see if it's worth it before dissing an unreleased phone.
P
Love the Nexus brand but hate the huge 5" display, 8MP camera with poor lens? poor battery life?
D
Rumors saying that the 32GB version has 3000mAh battery ;) .....
ADVERTISEMENTS