An alleged official press photo of the Google Nexus 5 has surfaced after the smartphone made several appearances in the past weeks. The press shot of the Nexus 5 confirms the phone's exterior, while a good chunk of its specification sheet also leaked in a benchmarking website GFXBench.
It confirms the LG-made Nexus 5 is going to rock a Snapdragon 800 chipset with four 2.3GHz Krait 400 cores. On top of that, as with every Nexus smartphone, Google will debut a new version of Android. In the case of the Nexus 5, that'll be Android 4.4 KitKat. Nothing that the earlier FCC documents didn't specify, but still.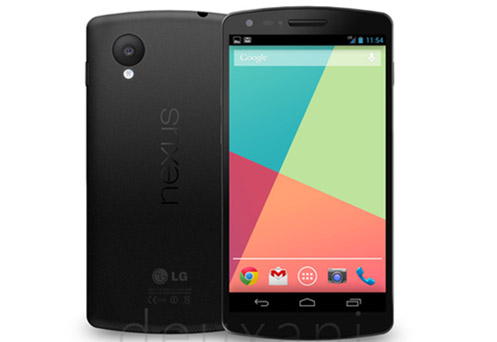 GFXBench reports the resolution of the Nexus 5 will be 1794 x 1080 (read 1920x1080). The codename of the device is reported as Hammerhead. Additionally, Google is reportedly going to make the LG Nexus 5 official by the end of October, if casemaker SPIGEN is to be believed (and we have a good reason to believe it is.)
The rest of the LG Nexus 5 specifications remain a mystery at this point. However, our educated guess is that there'll be 2GB of RAM and no microSD card slot. The Nexus 5 seems to be based on the LG G2, so a 13MP main camera isn't going to be a surprise.
Finally, if the Nexus 5 topic is of interest to you, you may as well check out a user-made 3D render of the Nexus 5 that's based on all leaked images so far. You can check it out below.
?
Looks like a nexus 4 that's not glass which is good. The glass causes the nexus 4 too heat up very quickly and shut off. This is bad in the summer time here in New York. I've driven around once on a hot day holding my phone out the window to cool ...
?
These phones are very low quality hence the price I guess. Operating system is really good tho. Waiting for third nexus 4 replacement from google.
W
These lousy greedy b-s I cant believe they wont include a microsd slot, they better otherwise there is no point of buying one
ADVERTISEMENTS