The Nexus 6 was by no means a sluggish or crappy phone. Motorola did an excellent job of embodying the Nexus language into a hardware package to compete with other flagship smartphones.
Today, the Nexus 6 is on sale in Amazon US for $249. The company really needs to get rid of these phones and they seem to be struggling to do so.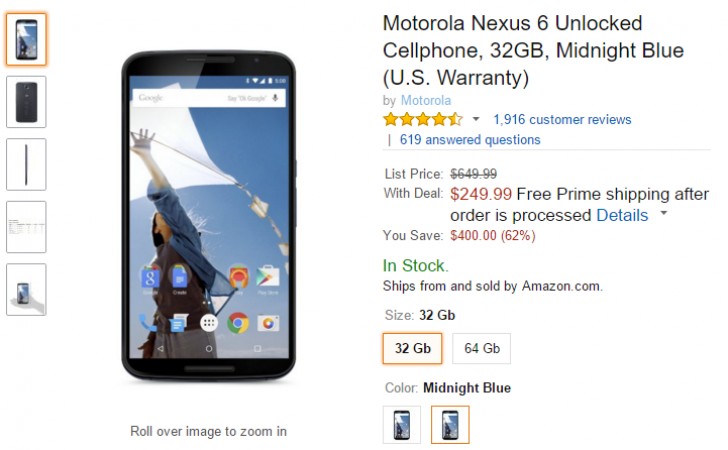 We really don't know how much longer these deeply discounted sales of Motorola's Nexus 6 are going to continue. If you've been on the fence about getting an unlocked Nexus 6 of your own, now is your chance. Remember, these phones are even equipped to be fully functional on Sprint or Verizon.
The Nexus 6 launched in the fall of 2014. While its hardware is still plenty powerful for today's standards, unfortunately, the market did not allow it to age very well. The Nexus 6 has dropped a full $400 below the original price which is good for people wanting to buy one now, but bad for those who financed the phone (like me) through a carrier like T-Mobile.
The Nexus 6 is available for $249.99 on Amazon for the Midnight Blue or Cloud White in 32GB configurations or $299.99 for the 64GB model in only Cloud White. The Midnight Blue in 32GB seems to be taking a little longer to process before shipping while the other two are shipping Prime.
D
unfortunately it can not be sent to Brazil :(
D
Not good, if you like to use your Front cam, a xiaomi mi4 for about the same price would probably be the better decisions. Therefore you get a better front cam, metal frame, better rear cam but worse processor and smaller screen.
O
I recently bought this smartphone and after 20 day of use, i am very satisfied. I like the big and high quality 2K screen and good sound speakers, it is very good size for texting on any messenger app, don't need to calculate where to touch to press ...