A game of Battleships
Nexus 6 vs. Galaxy Note 4: A game of Battleships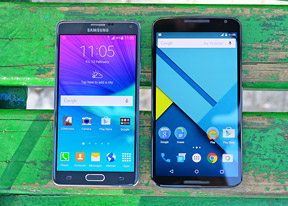 Display comparison
Both screens are AMOLEDs with QHD resolution, but they do differ in size. The Samsung Galaxy Note 4 has a 5.7" screen, while the Motorola Nexus 6 display measures 6" (5.96" to be precise). This translates to around 10% more screen surface area, but keep in mind that a chunk of the screen is often reserved for the on-screen keys, which the Galaxy Note 4 doesn't have to worry about. On the Nexus, the keys do hide in multimedia apps, so photos and videos can use the entire screen.
Anyway, the difference in pixel density (515ppi vs. 493ppi) is negligible. More important is the Gorilla Glass that guards the screen - Samsung used Gorilla Glass 4. The difference between it and the 3rd iteration found on Motorola's phablet is the new version can be made thinner, while keeping the same toughness.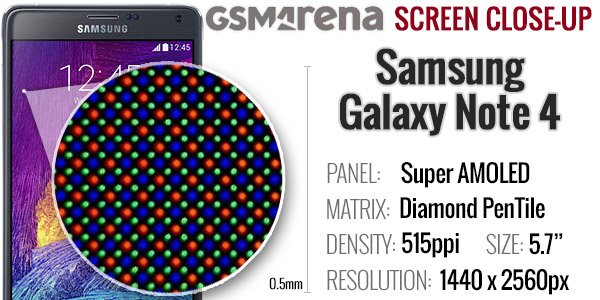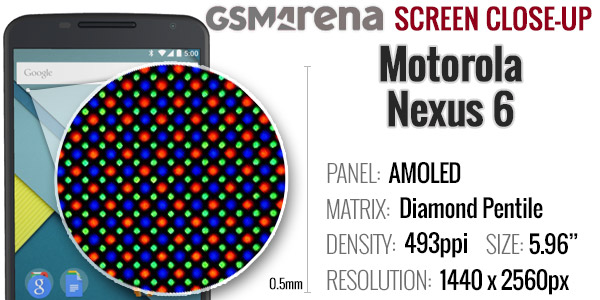 AMOLEDs have a reputation for oversaturating colors, but that's not an issue on the Galaxy Note 4. Samsung did an excellent job of producing one of the most accurate displays on the market and with the mode selector in the settings you can still go back to the vivid, saturated colors if that's what you prefer.
The Motorola Nexus 6 screen is more saturated than the usual IPS display and there are no color-correcting options. Another thing that affects the colors is viewing angles. The Galaxy Note 4 keeps colors steady, while the Nexus 6 screen shows a slight green tint at extreme angles. It's a minor complaint as it's not an issue in regular use.
Both screens are pretty much equals in terms of maximum brightness. They are a bit dim compared to LCDs, but they make up for it with better sunlight legibility. Note that the two screens react differently to the brightness slider. When both sliders are at half, the Galaxy Note 4 is at 75% of its maximum brightness, while the Nexus 6 is closer to 30%.
Display test
50% brightness
100% brightness
Black, cd/m2
White, cd/m2
Contrast ratio
Black, cd/m2
White, cd/m2
Contrast ratio
Samsung Galaxy Note 4
0
291
∞
0
399
∞
Motorola Nexus 6
0
149
∞
0
372
∞
LG G3
0.14
109
763
0.72
570
789
Meizu MX4 Pro
-
-
-
0.69
775
1127
Apple iPhone 6 Plus
0.17
208
1197
0.52
705
1361
The sunlight legibility readings are some of the best we've seen thanks to the low reflectivity of both screens. The Samsung Galaxy Note 4 is close to the top, with only the Galaxy A3 beating it (the Nokia 808 has been retired) The Motorola Nexus 6 lands a bit lower, partly because of its lower maximum brightness. It's still one of the best displays to use outdoors though.
Sunlight contrast ratio
Nokia 808 PureView
4.698
Samsung Galaxy A3
4.241
Samsung Galaxy Note 4
4.033
Samsung Galaxy Note 3
3.997
Apple iPhone 5
3.997
Samsung Galaxy A5
3.895
Apple iPhone 6
3.838
Samsung Galaxy Note Edge
3.799
Oppo R5
3.678
Samsung Galaxy K zoom
3.675
Nokia Lumia 930
3.567
Apple iPhone 5s
3.565
Samsung Galaxy S5
3.549
Nokia Lumia 735
3.547
Motorola Nexus 6
3.543
Alcatel Idol X+
3.527
Apple iPhone 5c
3.512
Samsung Galaxy Alpha
3.509
Samsung Galaxy Note 3 Neo
3.487
YotaPhone 2
3.453
Motorola RAZR MAXX
3.42
Samsung I9300 Galaxy S III
3.419
Samsung Galaxy S5 Active
3.406
Nokia Lumia 925
3.402
Gionee Elife S5.5
3.386
Samsung I9505 Galaxy S4
3.352
Samsung Omnia W
3.301
Samsung Galaxy S5 mini
3.174
Samsung I9000 Galaxy S
3.155
Samsung Ativ S
3.129
Samsung I9190 Galaxy S4 mini
3.127
Samsung Galaxy S4 zoom
3.118
Nokia N9
3.069
Apple iPhone 6 Plus
3.023
Samsung Galaxy Note
2.97
Samsung Galaxy Premier
2.958
Sony Xperia Z1
2.95
HTC One S
2.901
Lenovo S90 Sisley
2.892
Samsung I8730 Galaxy Express
2.861
BlackBerry Q10
2.856
Samsung I9100 Galaxy S II
2.832
HTC Desire Eye
2.815
Gionee Elife S5.1
2.812
Samsung Galaxy S II Plus
2.801
BlackBerry Z30
2.79
Meizu MX4 Pro
2.765
Sony Xperia ZR
2.672
Huawei Ascend P1
2.655
Sony Xperia Z3
2.618
Sony Xperia Z3 Compact
2.616
Sony Xperia T3
2.609
BlackBerry Passport
2.595
Nokia Lumia 900
2.562
Motorola Moto G 4G
2.546
HTC One Max
2.537
Nokia Lumia 720
2.512
HTC One
2.504
Motorola Moto G
2.477
Sony Xperia Z
2.462
Xiaomi Mi 4
2.424
Samsung Galaxy S III mini
2.422
Lenovo Vibe Z2 Pro
2.416
LG G Flex
2.407
HTC Desire 820
2.372
HTC One (M8)
2.371
Meizu MX4
2.366
Motorola RAZR i
2.366
Sony Xperia ZL
2.352
Samsung Galaxy Note II
2.307
HTC One (M8) for Windows
2.291
Oppo Find 7a
2.279
Alcatel One Touch Hero
2.272
Apple iPhone 4S
2.269
HTC Desire 600 dual sim
2.262
Nokia Asha 311
2.25
Motorola Moto G (2014)
2.233
LG Nexus 5
2.228
Nokia Lumia 820
2.193
HTC One (E8)
2.185
Oppo N3
2.181
Nokia Lumia 920
2.17
HTC One X
2.158
Nokia N8
2.144
Nokia Lumia 620
2.142
Nokia 515
2.134
HTC Desire 500
2.129
Sony Xperia C3 Dual
2.12
Xiaomi Redmi Note
2.119
Sony Xperia acro S
2.119
Nokia Lumia 1020
2.103
Oppo Find 5
2.088
Sony Xperia SL
2.078
Nokia Lumia 630
2.056
BlackBerry Z10
2.051
Huawei Ascend Mate7
2.024
Samsung I9295 Galaxy S4 Active
2.022
Apple iPhone 4
2.016
HTC One mini
2.003
Xiaomi Mi 3
2.001
Huawei Ascend P7
1.992
LG G2
1.976
OnePlus One
1.961
Oppo R819
1.957
Sony Ericsson Xperia ray
1.955
Lenovo Vibe X2
1.952
Sony Xperia Z2
1.944
Sony Xperia E3
1.943
Nokia Lumia 1320
1.941
HTC One mini 2
1.94
Samsung Galaxy Camera
1.938
Samsung Galaxy Grand Prime
1.935
Sony Xperia J
1.932
Acer CloudMobile S500
1.931
LG Nexus 4
1.926
LG G Pro 2
1.922
Samsung Galaxy Mega 6.3
1.913
Nokia Asha 308
1.911
HTC Butterfly 2
1.905
Sony Xperia T
1.894
Nokia Lumia 830
1.887
HTC Desire X
1.878
HTC Windows Phone 8X
1.873
HTC Butterfly
1.873
HTC Butterfly S
1.867
Huawei Ascend P6
1.865
Huawei Ascend Mate
1.845
LG G2 mini
1.838
LG G3
1.82
Nokia Lumia 1520
1.813
HTC Desire 616 dual sim
1.797
Sony Xperia V
1.792
HTC Desire 816
1.783
Sony Xperia Z1 Compact
1.772
HTC Desire 700 dual sim
1.769
Sony Xperia U
1.758
Meizu MX3
1.754
LG Optimus G
1.753
Sony Xperia T2 Ultra
1.74
Sony Xperia Z3 Tablet Compact
1.735
Sony Xperia SP
1.733
LG Optimus 4X HD
1.691
Oppo Find 7
1.691
HTC One V
1.685
BlackBerry Q5
1.682
LG Optimus Vu
1.68
Xiaomi Mi Pad 7.9
1.672
LG Optimus GJ
1.666
LG Optimus 3D Max
1.658
HTC Desire V
1.646
Samsung Galaxy Xcover 2
1.632
Samsung Galaxy Ace 3
1.622
Jolla Jolla
1.605
Sony Xperia Z Ultra
1.578
Sony Xperia go
1.577
Samsung Galaxy Ace 2 I8160
1.566
Samsung Galaxy Core
1.563
LG Optimus G Pro
1.552
Motorola Moto E
1.545
LG Optimus 3D
1.542
Nokia Asha 302
1.537
Samsung Galaxy Core Prime
1.507
BlackBerry Curve 9320
1.488
Sony Xperia M
1.473
Oppo N1
1.47
Meizu MX 4-core
1.462
Nokia Lumia 610
1.432
Samsung Galaxy S Duos
1.4
Sony Xperia M2
1.393
Microsoft Lumia 535
1.393
Samsung Galaxy Grand Neo
1.393
Samsung Galaxy Grand 2
1.38
Sony Xperia E1
1.372
Nokia Lumia 625
1.371
Gigabyte GSmart G1355
1.361
Sony Xperia L
1.351
Samsung Galaxy Mega 5.8
1.35
Xiaomi Redmi 1S
1.35
HTC Desire 510
1.34
Sony Xperia M2 Aqua
1.331
Sony Xperia miro
1.324
Samsung I9082 Galaxy Grand
1.321
Samsung I8530 Galaxy Beam
1.315
Xiaomi Redmi 2
1.311
HTC Desire C
1.3
Nokia X
1.291
Sony Xperia C
1.283
Nokia Asha 503
1.281
Nokia Asha 501
1.27
LG Optimus L7
1.269
Nokia Lumia 510
1.268
Samsung Galaxy Fame
1.245
LG Optimus L9
1.227
Meizu MX
1.221
Samsung Galaxy Young
1.22
Sony Xperia E
1.215
Nokia XL
1.204
Sony Xperia E dual
1.203
Asus Memo Pad 7 ME176C
1.198
Samsung Galaxy Pocket
1.18
Nokia Asha 305
1.178
Nokia Asha 306
1.175
Sony Xperia neo L
1.169
Sony Xperia tipo
1.166
Nokia Lumia 520
1.161
Samsung S6802 Galaxy Ace Duos
1.148
Samsung Galaxy mini 2
1.114
The Samsung Galaxy Note 4 features the trademark S Pen stylus. This generation was improved with double the pressure sensitivity levels, around 2,000. Unlike touchscreens which are binary (touching or not touching), the S Pen offers a more natural handwriting experience as applying more pressure leaves wider marks, just like pens and pencils work with actual paper.
The S Pen has a button on it (which works even though the stylus doesn't have a battery), which can be used to trigger alternative actions with the stylus. If you use the S Pen a lot, you might consider the premium Montblanc, which is the size of a real pen and more comfortable to hold. Like a fountain pen, it has swappable nibs, which imitate different real-world writing instruments.
Winner: Samsung Galaxy Note 4. The display is smaller, though there are no on-screen buttons to eat into the available room. It's also slightly brighter and slightly better in direct sunlight. The bigger advantages however, are the color accuracy and display modes that let you tweak saturation and white balance.
The Motorola Nexus 6 has an excellent display and is mostly let down by the software, which doesn't have the option to adjust the colors.
Connectivity
In terms of connectivity, both phablets are equal and have pretty much everything you're likely to need. They support the latest LTE and Wi-Fi standards, plus a host of other wireless and wired features.
Note that the Samsung Galaxy Note 4 comes in two versions - one with a Snapdragon 805 chipset and another one with an Exynos 5433. The latter supports "only" 150Mbps downlink speeds over LTE, while the Snapdragon 805 version (also used in the Nexus) goes up to 300Mbps. Both upload at 50Mbps max.
While LTE coverage has greatly improved in recent years, real-life speeds are still well below what any of these handsets offers as a theoretical maximum.
Both phones support Wi-Fi calling. This means regular voice calls and text messages can be routed through your Wi-Fi network, great if cell signal in your location is low. This also works abroad on some telecoms, which is even better. Of course, the feature is carrier-dependent and may not work at all on your cellular network.
Locally, you can max out your home internet connection with Wi-Fi ac or share your phone's speedy LTE connection with other devices.
Bluetooth 4.1 is on board to connect to wearables, but the Galaxy Note 4 also offers ANT+, which can be used to integrate additional sports sensors into the S Health app.
Another winning card up the Note 4 sleeve is the IR blaster, which can remotely control a wide array of standard home appliances - it's not limited to HDTVs or set-top boxes.
For positioning, both phones can connect to GPS or GLONASS satellites, but the Note 4 also manages the Chinese Beidou for all its worth. Snapdragon 805 should definitely support it, but Beidou is not listed in the official Nexus 6 specs.
We already mentioned the two wired connections. These days there's not much difference between SlimPort and MHL (new adapters no longer require external power), so it's a matter of knowing which adapter you need to buy. Some TVs support those standards natively, so that's something to check.
Both support wireless TV out, but different formats. The Nexus 6 only supports streaming to a Chromecast, while the Galaxy Note 4 can do that as well plus stream over the Miracast protocol. The Chromecast was a best-seller on Amazon, but there are plenty of TVs out there that only support Miracast (which does have a reputation for compatibility issues).
Winner: Samsung Galaxy Note 4. ANT+, Miracast and Beidou are small advantages, but advantages nonetheless. The IR blaster coupled with Miracast can easily create a no-wires, no-remote media setup at home.
This is a slim victory though, these things don't hurt Nexus 6's desirability all that much. Also, we found that Miracast is just disabled by software and can be turned on with a build.prop tweak.
Battery life
We waited until the Samsung Galaxy Note 4 was updated to Android 5.0 Lollipop before we ran the battery tests as Lollipop has a number of power-saving optimizations over KitKat. Keep in mind that this is the Snapdragon 805 version of the Note 4, so both phablets have the same chipset and run the same Android version. They have the exact same battery capacity too of 3,220mAh.
Both phablets will literally last a whole day of calling, the Motorola Nexus 6 clocks in at 25 hours while the Galaxy Note 4 goes 28 and a half. Those are some excellent scores.
The Galaxy Note 4 is a long distance runner when it comes to web browsing too, giving you 11 hours if you start at full charge. Web browsing is a key discipline for phablets, there's no substitute for screen size if you have to read more than a few tweets. The Nexus 6 does well here, but it lasts three hours less than the Samsung.
If watching videos is why you want a phablet rather than web browsing, then the scales are again tipped towards the Galaxy Note 4. It lasts nearly 18 hours as opposed to the 10 hours of the Nexus 6. Yes, the larger screen with front-facing stereo speakers make for a nicer experience, but when it comes to longevity, the Nexus 6's is battery performance is dwarfed by the Note 4.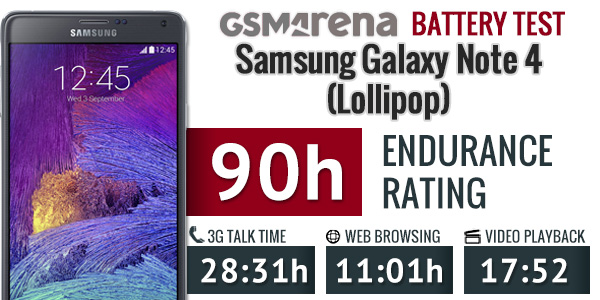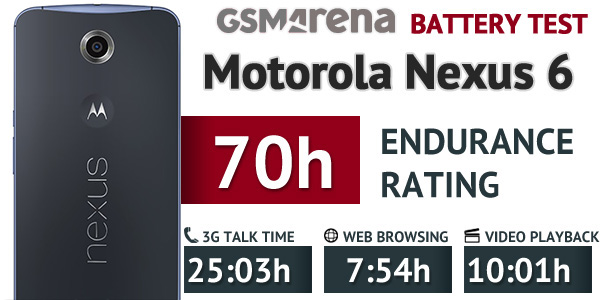 With winning all three tests it should come as no surprise that the Samsung Galaxy Note 4 gets the higher Endurance rating of 90 hours. The Motorola Nexus 6 is a solid performer with 70 hours but generally, you can expect to get a day less from it between charges.
Speaking of charges, the Nexus 6 support Qi wireless charging so it's pretty easy to top off. Both phablets offer Qualcomm's Quick Charge 2.0, which will put your battery from 0% to 60% in just half an hour.
You can read more about our testing procedure here, but here's the short version - we test devices with their brightness sliders set at half which, as we saw in the previous chapter, means the Galaxy Note 4 is pushing out nearly twice the nits.
Winner: Samsung Galaxy Note 4. It should last you one day longer with moderate use, while heavy users will see an even bigger advantage in web browsing and especially watching videos. The Galaxy Note 4 also has a removable battery so you can pop in a fresh one or install an aftermarket battery pack.
The Motorola Nexus 6 has excellent battery life measured against the average mobile device, though even at lower actual brightness can't match the Note 4.
Loudspeaker
The Motorola Nexus 6 comes with a built-in advantage of having two speakers smack on its face. This is the best setup for multimedia - the speakers don't get muffled when you leave them on a table and the sound is directed right at you when you watch videos.
The sound quality is very good and while it won't replace your home audio setup, it's great for impromptu parties without having to lug a Bluetooth speaker around.
The Samsung Galaxy Note 4 has just one speaker and it's placed on the back. That leads to some muffling issues and is certainly not as nice for watching a video. It's a very loud one though, so it does an excellent job of notifying you of incoming calls or other alerts.
The Nexus 6 posted nearly identical results in our three tests categories - voice, music and ringtones - which suggests it has been optimized to produce all frequencies evenly. Great for music, bad if you just need loud sound and you're willing to sacrifice quality.
| | | | | |
| --- | --- | --- | --- | --- |
| Speakerphone test | Voice, dB | Pink noise/ Music, dB | Ringing phone, dB | Overall score |
| Motorola Nexus 6 | 66.5 | 66.2 | 66.3 | Below Average |
| Apple iPhone 6 Plus | 67.3 | 65.7 | 66.5 | Below Average |
| LG G3 | 70.2 | 66.6 | 80.2 | Good |
| Samsung Galaxy Note 4 | 74.7 | 73.5 | 81.6 | Excellent |
| Meizu MX4 Pro | 76.9 | 73.6 | 82.7 | Excellent |
Winner: Tie. The Motorola Nexus 6 offers a superior sound experience with its stereo speakers but they are not as loud as the Note 4's. Since we deem sound quality equally important to loudness, we figured this one's a tie. But if you have it otherwise, feel free to adjust the score depending on your personal preferences (a point that's valid for all our chapter scores).