A game of Battleships
Nexus 6 vs. Galaxy Note 4: A game of Battleships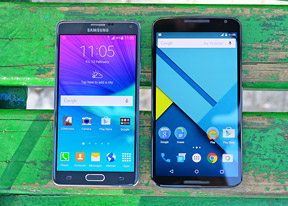 Multimedia package
Google pushes its social network forward with the Nexus 6 as the Photos app for Google+ is the only gallery on the phone. This gives it great integration with the Google cloud, which also helps to search for photos of you, auto enhance your snaps with Auto Awesome and automatically create stories from your photos.
You can edit both photos and videos out of the box.
Samsung integrates its gallery with Facebook, Dropbox and Picasa. It also brings image recognition offline, the Galaxy Note 4 can sort photos by content - photos of people, pets, cars, flowers, foot and several more. It's pretty accurate, too.
There's the Studio app that adds several perks over the default image editor, including creating collages, editing Shot & more images (this mode lets you duplicate or remove moving objects, for example). Studio also includes a video editor and a simple video trimmer.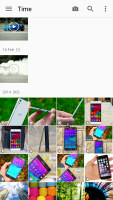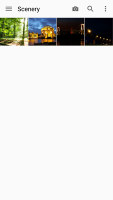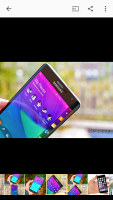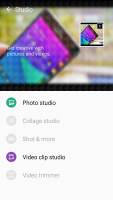 Gallery with Facebook integration and advanced image recognition
Samsung's music player is one of the best-equipped apps around. It uses square grids as a simple visual way to tune the equalizer or automatically create a playlist based on mood. A unique feature is Adapt sound that tests both your hearing and your headphones to automatically create the optimal equalizer setting.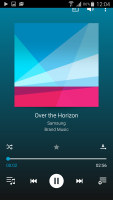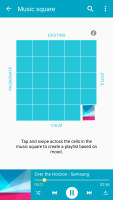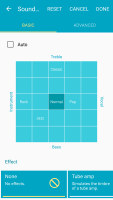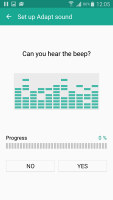 The TouchWiz music player with advanced functionality
The Motorola Nexus 6 once again pushes Google products, in this case Google Play Music. It's a capable offline player with a 5-band equalizer but it also lets you listen to online playlists and, of course, purchase what you like.
You can easily get a 1-month free trial for All Access, which lets you listen to the entire catalog (30+ million tracks) for as long as your data connection will allow. Songs are cached for offline play, which will reduce the load somewhat.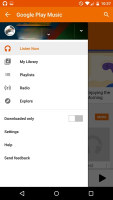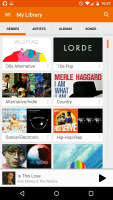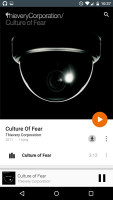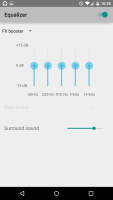 Google Play Music works great offline and online
Both music players handle lossless audio, FLAC at 16 bit or 24 bit. Keep in mind FLAC albums are in the hundreds of megabyte so storage can feel a little tight without a microSD card.
Google offers movies too, but unfortunately the video app on the Nexus 6 did not get the same treatment as the music player and is pretty basic. It can handle videos at up to 2160p in the right format - even 2160p encoded in H.265 worked. Multi-channel sound is not supported, neither are subtitles.
The Galaxy Note 4 can't handle multi-channel audio either, but it does have extensive controls for subtitles, including fonts and formatting.
The video can be detached into a small floating window so you can keep watching as you answer incoming texts, for example.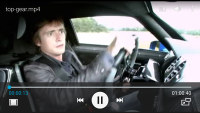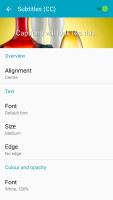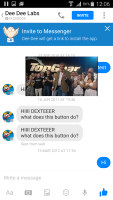 Samsung's video player has great subtitle support and can work in a small, floating window
Winner: Samsung Galaxy Note 4. Both have Google Photos pre-installed, but Samsung's gallery plays well with Facebook. The extensive options in the music player and the more capable video player secure the victory.
We don't mind Google-branded apps, as long as the work well offline. Google Play Music does quite fine, even if it doesn't have all the bells and whistles of the Samsung player. The video player didn't get much love and no Facebook support out of the box is a minus.
Audio quality
The Motorola Nexus 6 is not a bad audio device per se, but it has a weak point in both of our tests - something you can't really afford when you are facing a rival of the Galaxy Note 4 caliber. The Google pure-bred Nexus 6 had slightly higher volume levels when connected to an active external amplifier but loses by some distance when you plug in a pair of headphones.
In terms of clarity, the Galaxy Note 4 is flawless in the first test, whereas the Nexus 6 introduces quite a lot of distortion. Plug in a pair of headphones and the two do comparably in terms of cleanness, but again the volume levels tip the scales in favor of the Samsung handset.
And here go the results so you can see for yourselves.
| | | | | | | |
| --- | --- | --- | --- | --- | --- | --- |
| Test | Frequency response | Noise level | Dynamic range | THD | IMD + Noise | Stereo crosstalk |
| Motorola Nexus 6 | +0.03, -0.14 | -95.6 | 93.1 | 0.0028 | 1.076 | -96.6 |
| Motorola Nexus 6 (headphones attached) | +0.01, -0.10 | -95.3 | 91.2 | 0.0052 | 0.015 | -56.9 |
| Samsung Galaxy Note 4 | +0.01, -0.04 | -96.6 | 93.4 | 0.0015 | 0.0086 | -94.2 |
| Samsung Galaxy Note 4 (headphones attached) | +0.03, -0.02 | -96.8 | 93.5 | 0.011 | 0.035 | -55.2 |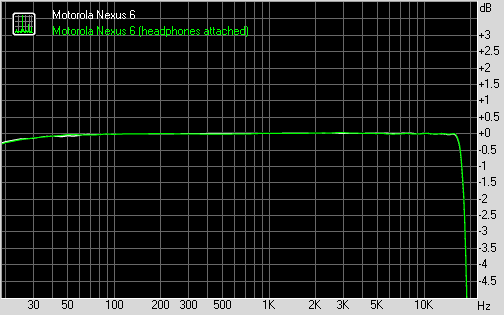 Motorola Nexus 6 frequency response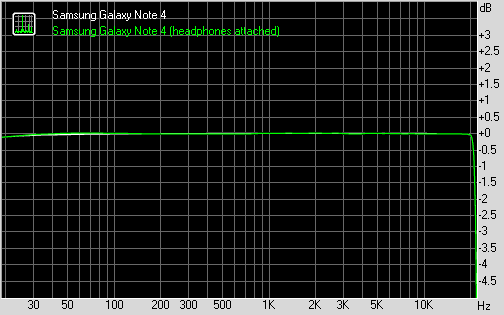 Samsung Galaxy Note 4 frequency response
You can learn more about the tested parameters and the whole testing process here.
Winner: Samsung Galaxy Note 4. It's cleaner with an active external amplifier and louder with a pair of headphones, while matching the Nexus 6 elsewhere.