Nearly a week after Google posted the Android 5.1.1 Lollipop factory image for it, the Nexus 7 2012 (Wi-Fi) has started receiving the OTA update.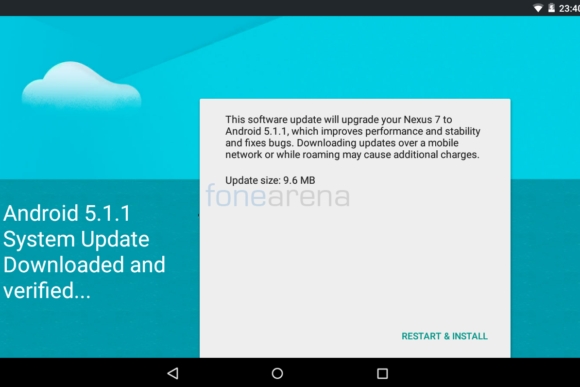 The update weighs 9.6MB in size and carries a build umber of LMY47V. It's worth mentioning that Android 5.1.1 is a minor update from Android 5.1 as it only "improves performance and stability and fixes bugs".
For those who aren't in the know, OTAs are usually meant for everyone, while factory images are targeted at Android developers and enthusiasts as they to be applied manually.
Via
s
I've had Nexus seven since it came out. It NEVER does an update. It is slower than DS. Have restored it to day one many times. No change. Going to use it for target practice. Buy a Google Chromebook? Wouldn't take one for free.
S
I am having the same problem with my Nexus 7 with Android 5.1.1 not opening apps and freezing up.
K
Thanks so much for your post. I recently pulled my Nexus out of the draw after a couple years to start using it again. I updated to 5.1.1 and what a nightmare. Made my tablet junk. No matter what app I would open, it would freeze up. I did as you sai...