The Nexus Marlin - that's the bigger 5.5" model - has joined the Sailfish over at AnTuTu. The benchmark confirms specs that were rumored earlier and basically shows that both Nexus phones will be built on the same platform.
That means Snapdragon 820 with 4GB of RAM and 32GB storage (a 128GB option is rumored, a 64GB middle step was ruled out). The same cameras are used too - 13MP on the back, 8MP on the front.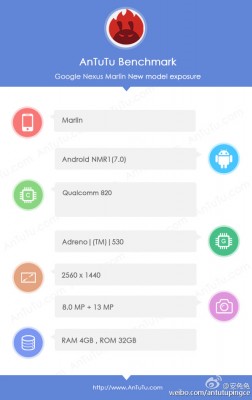 Google Nexus 'Marlin' specs by AnTuTu
The major difference is the screen - 5.5" with QHD resolution (up from 1080p) to compensate for the increase in diagonal. There were murmurs about AMOLED too, but there's no way for AnTuTu to detect that.
We've already seen a photo of the Marlin, but it only shows the screen (the About screen specifically, showing Android 7.0 Nougat).
D
Still, the ones defect free are running marshmallow today fluidly and with happy consumers i suppose. The 6P and 5X also had build quality/charger issues, but even Samsung/HTC have those sometimes sadly.
D
Haha well only the Nexus trio by LG sold for that price range, but they are arguably the only Nexus devices with the worst components. Digitizer issues on the Nexus 4 and 5 and mic issues on certain models.
D
And the Boom Sound that died with the failure M9.... 🙁 whenever i saw an HTC on a magazine or for sale i was like "Wow, a metal phone with front facing speakers"!? Back in that time i only had a Samsung Mini and couldnt get a proper phone. Note 4 was...