The Nexus One mystery is finally drawing to a close. Practically all the relevant specs (including price) are out and Google will be holding a press conference on January 5th, where the Google Phone should be officially unveiled.
We've already seen the full specs of the Nexus One and while we knew that it's headed for the T-Mobile network one way or another, we didn't know any details about its pricing.
The Nexus One will be sold directly by Google online and will cost 530 US dollars unlocked (370 euro). Signing a 2-year contract (79.99 dollars a month) with T-mobile gives you a subsidized price of 180 dollars. You don't have any other plan options either, you have to switch to that specific one.
Apparently, if you get the Nexus One on a plan, you can cancel the plan before the 120 days mark and either return the phone or pay the difference. In this case however you will also have to pay 350 dollars for the handset rather than 180.
Also you can purchase a maximum of 5 Nexus One phones per Google account. Google makes sure you understand the division of labor - Google and HTC handle support and troubleshooting for the device and exchanges, while T-Mobile will handle network-related support like coverage, billing and so on.
So there you have it ladies and gentlemen, now the only question that remains is when. But since Google has scheduled a press gathering for the 5th of January the answer seems obvious.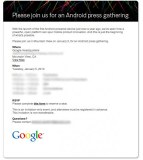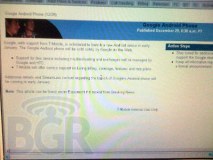 Mark down January 5th on your callendars
One rumor is that the Nexus One will be available in early January and the T-Mobile subsidies will start around March. But looking at that order page, it seems like the phone will be available unlocked and from T-Mobile simultaneously.
The Nexus One, the Google Phone is closer to reality than it's ever been. All that's left is to sober up by January 5th and keep an eye on www.google.com/phone. This is (or rather will be) the page from which you can get your Nexus One.
Source: Gizmodo, Boy Genius Report
K
hooray i Got Nexus one. i have written my personal experience about my new phone. Not upto Iphone but second to Iphone. I am also facing some problems with the phone http://www.bukisa.com/articles/244029_htc-google-nexus-one you can try it.
?
May be you can see this article: Nexus One vs iPhone 3GS: http://www.aimersoft.com/tutorial/nexus-one-vs-iphone-3gs.html#161
R
I just what different from Nexus One and iPhone 3GS.
ADVERTISEMENTS