It's Nielsen's turn to post its report on the US smartphone market in the second quarter of this year. The numbers show that Android continues to dominate while iOS is a very solid second. The two platforms combine for a total of 86.2% of all smartphones in the States.
In the second quarter of the year, Android powered 51.9% of US smartphones, while 34.3% ran on Apple's proprietary iOS. RIM's faltering BlackBerry OS came a very distant third, taking 8% of the Stateside smartphone market .
The gaps are even more pronounced among recent acquirers. Of all the US citizens who bought a smartphone over the past three months, a whopping 58.6% chose Android and another 33.0% went for iOS. The trend is understandable, given that the iOS flagship - iPhone 4S was already nine-months old at the end of that quarter, while the Android-powered One X had just made it to the market.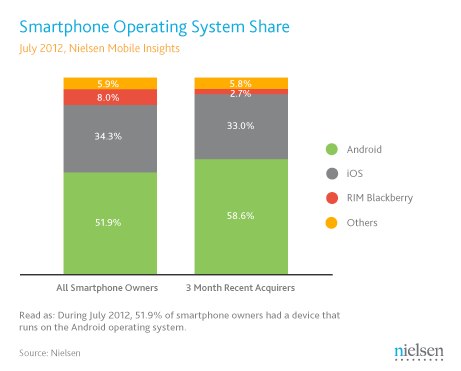 Given that the Samsung Galaxy S III only made it to the US market in Q3 and the next iPhone is expected to debut at the very end of the quarter, we expect the two leading platforms to expand their market shares even further by the time the next report rolls around.
As you see from the graph, the BlackBerry sales were down to 2.7%, while all other platforms, including Microsoft's Windows Phone managed a combined 5.8%. We don't expect Windows Phone to make a significant impact before the holiday season, as we are still waiting for the new WP8 devices to launch.
?
please read, i know it is horribly difficult for you to do that, but please try http://www.businessinsider.com/10-of-the-most-interesting-lawsuits-that-have-been-filed-against-apple-2012-8?op=1 your precious apple was sued for selling priva...
J
Apple I drink your milkshake!
?
Apple fans are just so funny.. hahaha apple users compare a 4S to mid-range androids with just a 1GHz processor, and dare to brag that android is crap? whoa, did you even read the specs of the phones you compare it with? probably not. cause apple...
ADVERTISEMENTS