Time for another survey - this one is app store centered. It reveals some unsurprising things (the Apple App Store is on top) and surprising ones - carrier app stores are still going strong, despite everyone and their mother having a device-specific app store.
There are three charts that graph the interesting bits of this survey. Before we begin, it's important to note that this is a survey conducted by Nielsen and it's US only.
The first chart shows the average number of apps installed - feature phones vs. smartphones and the individual OSes head to head. Smartphones users download more than twice as many apps as feature phones users (22 - 10).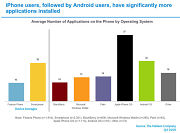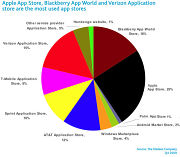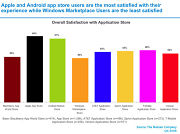 The Nielsen app store survey shows interesting results
The iPhone OS comes on top, followed by Android and BlackBerry is at the bottom (company provided BlackBerries are locked so only the company's IT can install apps).
The second chart shows the app store market share - surprisingly despite the low number of installed apps the BlackBerry App World is in second place (the huge user base helps). Carrier-operated stores are going strong too.
The third chart deals with customer satisfaction - iPhone OS is once again on top with Android almost equaling it, then come the carrier stores with above average satisfaction and at the bottom of the barrel are the BlackBerry App World and the Windows Marketplace.
?
What, you live in a cave with no music, Internet, contact with the outside world or anything? I use an iPhone in many ways and those ways enhance my life like any other tool.
?
wouldnt be surprised if apple made an app called iEnhance lol
?
"My iPhone enhances my life" what a sad life you have if a phone 'enhances' it.
ADVERTISEMENTS