Nintendo 2DS to go on sale in Japan in February; pre-orders have begun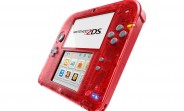 Launched back in 2013, the Nintendo 2DS gaming console will finally be available for purchase in Japan in the next couple of months. The country, however, will be getting four special edition transparent variants of the device, preloaded with Pokémon Red, Blue, Green, or Yellow (shown below).

Of the variants shown above, the red and the blue models have already been available outside of Japan since last year. In Japan however, all four variants will come with a decorative sticker and special menu theme, as well as a poster based on the Kanto region's map.
Those purchasing the console will also get a download code for the Pokémon Mew that will also work with some 3DS games, including the Omega Ruby, Alpha Sapphire, as well as Pokémon X and Y. As for the price, each variant will carry a JPY 9,980 price tag, which translates into around $83. They will be available for purchase starting February 27- pre-orders have already begun.
m
Nintendo is the legend...It is the originator of all the games.
?
It's an excellent game that is well done both graphically and mechanically. It's no surprise that Game Freak continues to create them.