Nintendo just revealed their brand new console to the world, the Nintendo Switch. It's the first console of its kind to let you play your game anywhere you want, whether it's at home on your TV or out and about.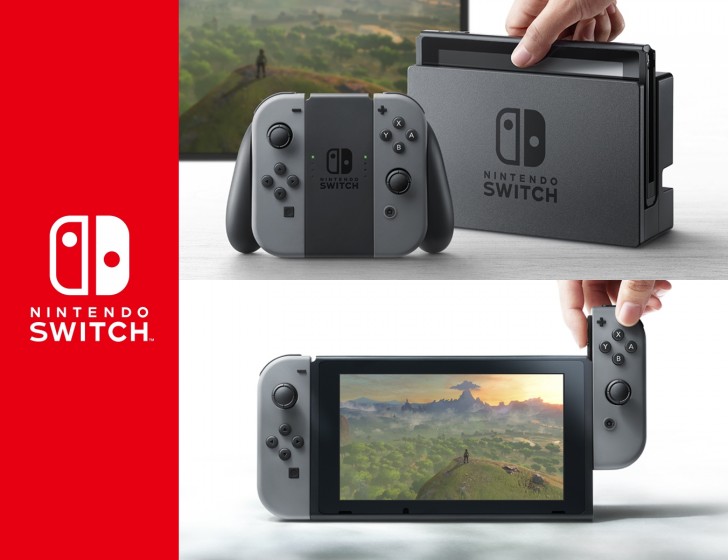 At the core of the system is a display unit running on a custom NVIDIA Tegra processor that makes use of a brand new set of gaming API called NVN to get the best out of it. The main unit is an assuming slab with an HD screen on it. It's what you plug it into that makes it interesting.
At home, you can just slot the unit into the Nintendo Switch Dock that connects to your TV. The switch comes with a unique set of controllers called Joy-Con that either plug on either side of the display unit or can be removed and plugged into the Joy-Con Grip accessory to resemble a traditional controller.
When you are heading out, simply remove the display unit from the dock and slip the Joy-Con controllers on either side of the unit to turn it into a portable console.
The display unit has a kickstand at the back, so you can slide out the controllers and just rest the unit on a table and play it without holding the whole thing in your hand. But it gets better. Each of the Joy-Con controller has identical design, so you can play a two player game with someone and each person can hold one of the Joy-Con controllers and still enjoy the full experience. Even better, you can pair multiple Nintendo Switch consoles with each other and play multiplayer games with more than two people. Nintendo will also sell a Nintendo Switch Pro Controller if you want a more traditional controller to play single-player or multiplayer titles.
Nintendo has released a list of 48 developers who are already working on Nintendo Switch titles. And then of course there will be first party titles from Nintendo itself, which Nintendo consoles have always been about.
The console is set to launch in March 2017. More details on launch titles, specifications, and price will be available before launch.
D
Dead?? Just one Zelda game is enough to keep the company alive. I never own an Xbox and PlayStation except for the PS1. I'm going to buy the Switch in March.
?
I think you are wrong my friend, no offense but if you actually watched the last Nintendo direct you can see that they are planning to release a bunch of games for the Nintendo 3DS, I don't think Nintendo will be that stupid to leave the best selling...
?
Those 4.5 teraflops that PS4 Neo wont work if the console doesn't have the enough RAM capability to work with it. and the 3GB RAM that PS4 and PS4 Neo will have wont be enough, it will be broken. about Scorpio there is nothing to says, we gotta wait ...