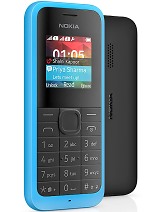 r
come on nokia in smart phone world !

what is this besic
a
when will hit the stores??

D
Thanks nokia......... For comeback
?
Did the fonts letter get bigger?

M
Next model shoud be waterproof
?
At last...this is what ive been waiting for...105 dual sim
m
I'm thinking of future phone with fiture tex, call, mp3, radio
and,,,,,,,wifi sharing,,,,,will be awsom if it 's water proof,,,,,
O
npk, 03 Jun 2015No front camera? why??maybe because its not a smart-phone that's why
D
Already have a back camera so y front camerA
Total of 152 user reviews and opinions for Nokia 105 Dual SIM (2015).
ADVERTISEMENTS