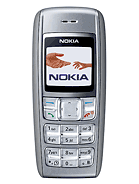 ?
gut fone,but the menu same as N1110.the different 1 with TFT screen n the other one black n white.model almost same with N2600.keep going nokia!!!!!!
s
Wow, pretty tiny phone...

What's that all about...the screen is even smaller than usual, this is a nice choice for girls who really just need a phone, but i wouldn't expect anything more.

The price will be very attractive i believe...let's see.
Total of 1063 user reviews and opinions for Nokia 1600.