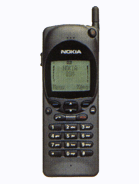 c
I still have one - a bit bulky but worked very well. Cannot find a genuine Nokia slim line or long life battery anywhere in Cape Town. Can you help?
C
Sohail B likes this Cell Phone too much , He used to take this phone out for an hour and charge it for the whole day. Infact we had many experiments done on this phone , So this phone is capabale of handling critical conditions aswell!!!, Shehzad bhai loved this cell phone tooo!! :P basterd
r
nokia 2110 is the best telephone ever created by nokia. you have some wrong information about this phone in this presentation (no graphic display,250 numbers in tel)
d
Use to have 2 but still have one left, had its casing changed to transparent blue. A bit bulky, lacks the graphics capability of newer models and not so user friendly but basically a good phone with a large screen
L
The most retarded phone ever from Nokia, I'd rather use a home phone than this mobile phone hahahah, Nokia 8890 and 8310 Rules!!!!!!
d
can i up date the software for nokia 2110?
if i can ,how can i do that?
thank you very much?
h
this version looks great, but i am poor man from Bangladesh and cant purchase this mobile, though passionate for it..

wish u ver good luck..

H
this is probably the best phone nokia ever made! its the best looking one & its got the newest technology out of oll nokias! i'm not being sarcastic!
Total of 595 user reviews and opinions for Nokia 2110.