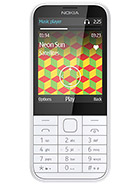 ?
Can't believe Nokia has the nerve to still make phones without at least 3G
D
I like this feature phone, certainly around €40 before taxes (€60-70 retail). As mentioned in other posts its indeed sad that there isn't any wifi transceiver on board. I like the size of it. Lest see what it will give once I've held it in my hands.
W791170
I like this a lot and think I shall be buying it, for me its perfect lightweight and nice big screen. People that moan do not realise the concept of the phone.
a
Now, Nokia is learnt a lesson from competitiors. 2.8" mobiles with Edge are available, but not from reputed companies. It indeed is very nice to have it from Nokia
e
That's a huge screen for a non-touch. In fact it's the same as the N95 8GB, and that was the biggest non-touch I've seen. This is probably the most interesting non-smart phone for years.
Total of 1295 user reviews and opinions for Nokia 225.