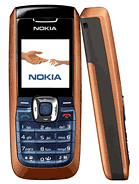 R
Nokia 2626 seems to be good improoved version of 2610 with FM+SPKR-PHONE+BIG-SCREEN.Only drawback could be its memory of just 2MB is not enough which is double i.e.4MB in 2610 why left behind in this field ? Otherwise overall featurewise its absolutely superb. Pls. lounch it immediately. Thanks to Nokia.
?
What the heck could someone do with the MP3 ringtones but only 2 MB of memory... I don't get it, how can they even build such a thing...
A
This phone is mady by nokia who's looking for ecnomical phone for talk, checking mails & listen radio. Not for all..When u feel this one is not good or stupid please choose other N70 - 95 models...Thank you.
r
I didn't buy 2610 only for one reason:it hasn't got connection with PC.Nokia2626 has it and plus FM radio yet.Simply the best low-end phone.And for design I give it 10 points!
?
this has more memory compared to 2610 and has FM radio, whereas 2610 did not have FM radio...
?
the big difference its javamidp 2.0 2610
have 1.0
and is something good
F
Is this just a 2610 with better ringtones, slightly different memory, GPRS and a lower battery life?
A
hi.Nice to c new entry level phone 2626 this phone is the second brother of 2610.but they added fm radio its good but they minus i mb memory because 2610 has 3mb but no radio its not good for buyers.It shape same like 2610 overall nice phone for those people who dont really want camera+other stuff just phone.Thanks
H
I nie a BASIC phone lik tis.. But i test the Nk-6030.. No Sms-Counter.. I nie a Sms-Counter in a basic phone wid no cam.. haizz..z.z.z.z. The Nk-6030 was a letdown to me coz no Sms Counter..
Total of 1033 user reviews and opinions for Nokia 2626.