GPS navigation hasn't been a high-end feature for a while, but the Nokia 2710 Navigation Edition brings it straight to the low-end. This S40 handset comes with Nokia Maps and a lifetime navigation license and it won't burn a whole in your wallet too.
The Finnish company made the Nokia 2710 Navigation Edition as basic as they could get away with - bar form factor, quad-band GSM/EDGE connectivity, S40 user interface, built-in GPS and Nokia Maps.
They might have gone a step too far though - the screen of the Nokia 2710 Navigation Edition is mere 2.2 inches in diagonal and has QVGA resolution. It's not that far from the 2.4" QVGA display of the Nokia 6210 Navigator, actually, but when it comes to in-car SatNav, bigger is always better.
Screen size aside, the Nokia 2710 Navigation Edition goes the whole nine yards - built-in GPS receiver with A-GPS support, lifetime voice-guided drive and walk navigation via Nokia Maps, car holder in the box (in select markets) and a dedicated keyboard key to launch the navigation software. Finally, Nokia Maps 2.1 for S40 with preloaded local maps (you can get upload more maps for free with the Map Loader). The only thing it lacks, is a digital compass really (not a deal-breaker).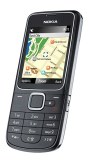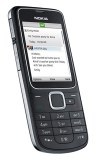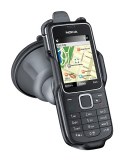 Nokia 2710 Navigation Edition brings affordable turn-by-turn voice-guided navigation
The Nokia 2710 Navigation Edition is powered by a 1020mAh Li-Ion battery, which is good for some 6 hours of navigation (we can tell you that's twice better than the average).
The rest is pretty standard for an S40 handset - a 2MP camera, microSD card slot for cards up to 16GB, 2GB card included in box, Bluetooth 2.1, FM radio with RDS and a 3.5mm audio jack. On the software side, there's Ovi Mail and Nokia Life Tools (which will be available in select regions only).
The Nokia 2710 Navigation Edition measures 111.2 x 45.7 x 13.7 mm and weighs 87 grams. It is expected to ship in the second quarter of 2010 for 110 euro (162 US dollars), which is as low as phones with voice-guided navigation have ever ventured. The Nokia 5230 has GPS and Nokia Maps, but you have to buy a voice navigation license but if you need SatNav rarely, this might be the better option.
Call it a guess, but the Nokia 2710 Navigation Edition won't be very popular in the US (especially with Google Maps Navigation for Android around), but this phone is targeted at developing countries, where it might actually prove quite successful.
v
hi frd anyone ready to sell that moblile?
v
I own this phone & use it. Its GPS has helped me to get in time to a ferry terminal in an unknown city on my motorbike. Strapped to my tank bag, it routed me visually through a maze of traffic, I was totally impressed. I also had it next to a Tom...
ADVERTISEMENTS