User interface, telephony and messaging
The Nokia 2730 classic sports the Series 40 5th edition user interface with Feature Pack 1. That long designation may sound intimidating but what you need to know is this – if you've used a Nokia feature phone before, you pretty much know what you're getting with the 2730 classic.
It doesn't have an active standby homescreen though – the homescreen just shows the usual status reading and time and date. The on-screen clock uses a big font so it's easy to see.
You can install Java games and simple applications and download new themes – the Ovi Store should be the first place you check, but more about it later. For more details, you can check some of our other Nokia reviews.
In the call department the Nokia 2730 classic doesn't hold any surprises – it doesn't have smart dialing as usual, but offers voice clarity for enhanced in-call sound. During calls, even at the highest setting, the sound isn't very loud. Signal reception is not very strong either.
In our traditional loudspeaker test, the 2730 classic scored a disappointing Below Average mark. You can read more about the test here.
| | | | | |
| --- | --- | --- | --- | --- |
| Speakerphone test | Voice, dB | Pink noise/ Music, dB | Ringing phone, dB | Overall score |
| Nokia X3 | 65.7 | 66.2 | 66.6 | Below Average |
| Nokia 2730 classic | 69.6 | 65.8 | 71.2 | Below Average |
| LG KF510 | 69.5 | 66.5 | 69.7 | Average |
| Nokia 3120 classic | 69.6 | 69.5 | 71.3 | Good |
| Sony Ericsson R306 Radio | 71.3 | 68.9 | 80.3 | Very Good |
| Sony Ericsson C510 | 74.1 | 75.7 | 82.7 | Excellent |
The messaging department holds no surprises – you get a shared editor for SMS and MMS messages and you can also send Flash and Audio messages. Email uses the same app that we saw in Nokia X3 – it supports anything from Ovi Mail, AIM, AOL, Hotmail, Yahoo mail and Gmail, as well as some others. Setup is very easy – type in your user name and password and the phone takes care of the rest.
Gallery, camera, music player, FM radio
The Nokia 2730 classic offers a standard S40 gallery. It works both as a file browser and as a photo gallery – it can copy or send files one by one or in bulk, but as a photo gallery it doesn't do as well. It can display photos, zoom in twofold and run simple slideshows. There are some basic image editing options too.
The Camera is 2MP fixed-focus with no flash. It offers a self-timer, a white balance setting and some effects. Our biggest gripe with the camera is that it takes photos in portrait by default and you have to manually switch to landscape each time you turn the camera on.
The image quality is pretty poor even for a 2MP camera – the photos are noisy, there's very little in term of fine detail and the dynamic range is quite poor as well.





Nokia 2730 classic camera samples
The Music player and the Radio are the same as on other S40 phones, including XpressMusic devices and the Nokia X3. The Music player can filter songs by artist, album and genre and has several preset and custom equalizers. The 2730 classic supports microSD cards up to only 2GB, which limits its use as a dedicated MP3 player. The radio has RDS and can play through the loudspeaker.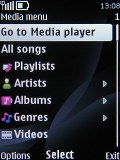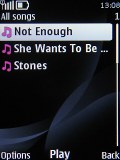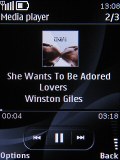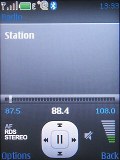 The Music Player and the FM Radio
Applications, Ovi Store and Nokia Maps
The Nokia 2730 classic comes preinstalled with a lot of the standard apps. By default, the Browser shortcut launches Opera Mini 4.2 – a fine choice if you ask us. You also get Ovi integration. Ovi Store offers a lot of content like games, apps, wallpapers and so on – both free of charge and paid. Its interface is very intuitive, so you won't have a hard time using it.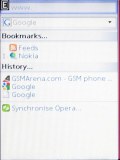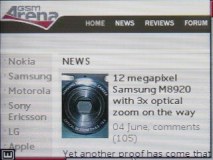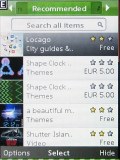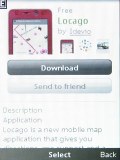 Opera Mini is the default browser • Ovi Store has a lot of free apps
Ovi Contacts and Ovi Share are also preinstalled. Ovi Contacts lets you chat with other Ovi and Gtalk users. Ovi Share is a bit like Flickr – it lets you upload photos (videos work too) to the Ovi servers where your friends can view them.
Nokia Maps for S40 is very much like its big (and rebranded) brother – Ovi Maps. You can download maps using the Nokia Map Loader, but unlike the latest Ovi Maps, you don't get free voice-guided navigation. The Nokia 2730 classic doesn't have built-in GPS in the first place, so if you want to use it for navigation, you'll have to pair it with an external GPS receiver over Bluetooth. The app itself is easy to work with and offers a highly customizable route planning algorithm.
Final words
With cheap phones (or other goods for that matter) you get what you paid for. The Nokia 2730 classic does give a bit more, and that's fair enough for an entry-level handset. It was announced alongside two flip phones and later on Nokia released a bunch of even cheaper handsets. If it's "just a phone" you want, they're all worth a look. The 2730 classic is the most expensive of the lot and it gets you into the upper low-end (or entry midrange depending how you look at it).