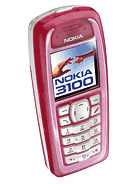 Z
Some of you people need to stop talking S**T about NOKIA cause I know that none of you would refuse this phone if it was given to you for free.
D
When is this madness gonna stop,nokia claims its connecting people but this goes beyond that its now a fashion statement blazing the trail,nokia with the 6600 & 3100 is far ahead of the pack,guess you can now call it NOKIA and the rest of the others!
?
looks like 2100, but certainly it will attract many people to buy it. It's smaller, has more features, looks nicer, have better resolution than 3510i/3530. Nokia gonna control the market with this and 6/7 series colour phones!!!
?
They are 1 because they flood the market with phones and Nokia FANS keep wanting every one of them =P.. LoL..
They all have the same technology with different design ONLY. But I think that the 3100 is something different... after how long. LoL.
?
If you had brain instead of shit in your head you would see the value of those phones.
Total of 831 user reviews and opinions for Nokia 3100.
ADVERTISEMENTS