Mid-range fighter
Nokia 3120 classic review: Mid-range fighter

Music player upgraded
Without doubt, the music player is among the nice applications of Nokia 3120 classic. It has very nice looks and good all-round functionality, including a good number of formats supported and album art.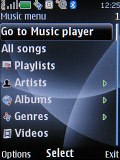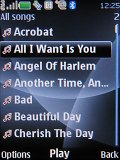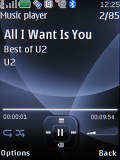 The Nokia 3120 classic music player
The music player is controlled by the D-pad but you have our word that dedicated music keys aren't badly missed. Besides all the typical functions, the music player of Nokia 3120 classic also sorts songs by artist, album and genre. The player works with MP3, MIDI, AAC, AAC+, and WMA formats. Naturally A2DP profile is supported, allowing listening on wireless Bluetooth earphones.
The player has themes of its own to perk up the looks of the application. In fact there is only one extra skin on top of the default one we got to know since Nokia 5300 XpressMusic. It's called graphite and we did like it.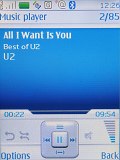 The default music player theme is not as nice as the Graphite
If you don't like the headset that ships with the phone, you can easily replace it thanks to the 2.5mm standard jack
Back to the player, we have to say it offers a large number of configurable options. The sonic experience gets enhanced by an equalizer and a stereo expansion function. There are 8 equalizer presets on Nokia 3120 but you can easily modify them to create new ones.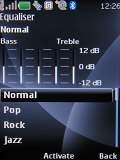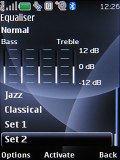 The Available equalizer presets
FM radio: all but RDS
An alternative for the preloaded content on your Nokia 3120 is the FM radio. It uses the audio player interface and has the well known functions. The Visual radio application is helpful, as it can download the radio stations in your area and save them to the handset with their names when internet connection is available.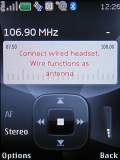 FM radio player interface - RDS is missing
Much like the music player, the FM radio also has two different themes to pick from. The only thing missing is the RDS but you can't have it all, especially on a handset in this price range.
Video player
The video player of Nokia 3120 is compatible with 3GP and MP4 formats. Videos can be played in fullscreen mode, as well as fast-forwarded or rewound. The possibility to remove the soft key captions to make better use of the full screen mode also improves the viewing experience.
Audio quality
Despite not being a music-oriented handset Nokia 3120 classic has rather good frequency response. However the rest of the readings in our audio quality test aren't as good. This goes true especially for the IMD level which is rather high. Still these are all not too bad so we would qualify the audio quality of Nokia 3120 as passable. However you should bear in mind that most competing models are able to perform better in terms of audio quality. Here are the results so you can see for yourselves.
| | | | | | | |
| --- | --- | --- | --- | --- | --- | --- |
| Test | Frequency response | Noise level | Dynamic range | THD | IMD + Noise | Stereo crosstalk |
| Nokia 3120 classic | +0.65, -0.86 | -76.6 | 79.0 | 0.018 | 0.439 | -73.9 |
| Nokia 5310 | +0.29, -1.69 | -94.4 | 92.0 | 0.015 | 0.491 | -73.8 |
| Nokia N81 | +0.39, -1.13 | -86.6 | 85.8 | 0.041 | 0.040 | -69.9 |
| Apple iPhone (v.1.1.1) | +0.34, -1.16 | -90.8 | 91.3 | 0.0050 | 0.016 | -91.4 |
| Samsung U600 | +0.41, -1.12 | -89.2 | 86.5 | 0.0040 | 0.019 | -86.9 |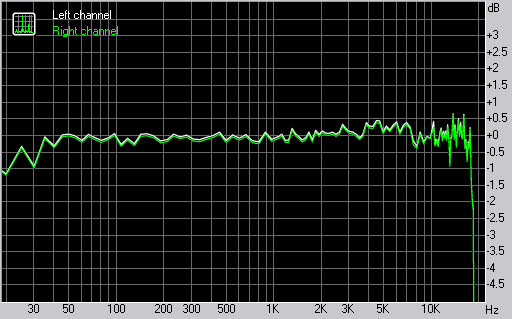 Nokia 3120 classic frequency response graph
You can find more info about the test itself here.