Mid-range fighter
Nokia 3120 classic review: Mid-range fighter

Applications
Nokia 3120 classic comes with a good number of preinstalled applications outside the organizer too.
WidSets is a group of web based applications that are quite at hand and easy to access. Those include weather, online dictionary and so on.
A unit converter is also on board and is in fact a really good one. It offers a good number of conversions, including currencies.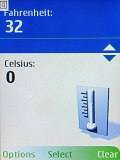 The unit converter is really nice
The search application helps you find the item you are looking for on you handset, while the download application takes you to the Nokia download center. There you are going to find a lot of useful stuff for your handset.
The presenter application allows you to wirelessly control your PowerPoint presentations and a few other Windows applications
The Yahoo Go application gives the user instant access to the most popular services offered by Yahoo.
The final featured application is World clock for checking the time in any time zone at the cost of only a few clicks.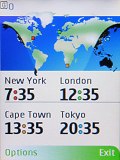 World clock applications is well familiar
Let the games begin
Gaming lovers will probably appreciate the preinstalled content on Nokia 3120 classic: there are as many as six featured titles.
Classic board game fans will be glad to find Backgammon II. It is a nice Java interpretation of the popular game. Snake is essential to Nokia phones, its presence in Nokia 3120 classic is barely a surprise.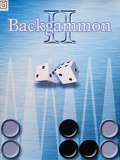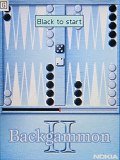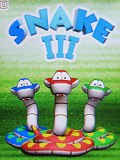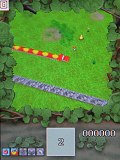 Backgammon II and Snake III start the game marathon
The High roller casino is a game that will earn the appreciation of the gambling lovers, as it includes some of the most popular gambling games, such as Texas Hold'em Poker and Blackjack.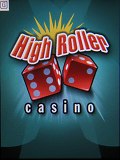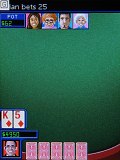 High Roller casino will be appreciated by gambling fans
Next two games in line are the sport simulation Golf Tour and the Java version of the popular Japanese game Sudoku. All the games have decent graphics and are comparatively easy to play.
The final game is the Rally 3D. It has the best graphics among all the Nokia 3120 classi games and is really rather amusing to play.
Conclusion
The first thing to note at wrap-up is the really nice performance and handling of Nokia 3120 classic. Yeah, we know it's not much of a specs sheet but what's there gets delivered right. Quad-band network support, excellent display and 3G do add value to the clean and simple 3120 classic.
In the beginning of this review we went to great lengths describing the serious pressure the 3120 classic will have to handle. That's good news for every user out there. All you need to do it is get your priorities right and indulge in the abundance of choice. This is a price range where value-for-money is imperative and it's up to you whether it's sleeker looks, better camera, 3G or simply the lower asking price.
All that said, it's unlikely for Nokia 3120 classic to let you down, especially if you get it on a deal or subsidized by a carrier.