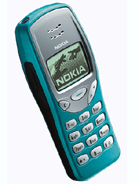 M
Get a 3310 if you can as it is a lot better than the 3210 and the signal is better.
R
Nice useable phone, the menus take a bit to get used to, and the signals not great, but excellent value...
j
yeah its not bad. However now everyones seems to have got one! Thats a bad thing if you want to look " the dogs b "
C
Heh, the lack of an antenna is not as good as you may think... I've been on a trip with some friends, and the guy with the 3210 was loosing his signal all the time and couldn't make a call, while my banana (nokia 8110) was still having 3 out of 4 lines of signal.. Banana rules :)
A nice phone, none the less..
G
Why didn't you add some additional features like Alarm with snooze option like you did in description of other phones?
Total of 830 user reviews and opinions for Nokia 3210.