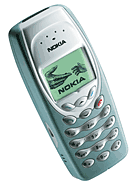 M
One of my friend had bought 3410 according to him it is the best phone that he has ever had...especiaaly it's data translation makes him crazy...
For more information abaut this phone please click
http://www.megavizyon.com
G
guys my uncle is president of the company here in greece send me a message if you want this phone earlier....limited pieces i will ship worldwide,send me a message for more info here.... 0030936639206
S
I dont give a shit about NOKIA fucking phones!Do you know how long does the NOKIA batery last?Just 2-3 days/I had NOKIA 3210,3310 and the bateries were fucked up!!!
X
Nokia 3410, features suck but looks great. Nokia 3510, features are really good but the looks sucks. This phone (3410) is an example of how Nokia failed at delivering an all-round phone. It has Java but no GPRS/HSCSD so you will end up downloading Java applications at 14kbps. Great job, Nokia! NOT! Why didn't you release only one phone that had all the features of 3510+3410 and the looks of 3410, than to split the features to two different phones. But what is done is done...
On the other hand I must congratulate you on the good work on 7210. This is the big step to 3G networks/phones. The price - no comment. I will probably need to mortgage my house to buy it.
Total of 289 user reviews and opinions for Nokia 3410.