Classically simple
Nokia 3500 classic review: Classicaly simple

Messaging is acceptable
The Messaging department of Nokia 3500 classic is quite well geared. The phone is capable of handling all common types of messages. There are as many as five different editors without even counting email.
The SMS editor is quite good with three different font sizes available. As soon as you activate the editor, it displays a field for entering the number of the recipient, which you can insert through standard typing, select it from the phonebook, from the caller groups, or from the list with last recipients in the call register. As you see, everything here is organized in a practical and time-saving manner.
Once you have inserted the relevant number, a single click will shift to the message body where you can start typing. The phone naturally offers a rich T9 dictionary. The maximum message length is 1000 symbols. There is also an indicator of the number of separate parts you message will be divided for sending if it's too long.
Nokia 3500 classic has as many as 3 different editors in charge of MMS. We aren't exactly sure why anyone would need such an insanely large number of editors. The first multimedia editor organizes the multimedia content in slides, while the second uses fields for that purpose. The difference is mainly visual but some might find one easier to work with than the other.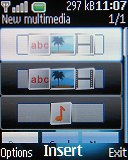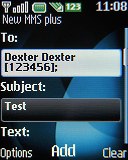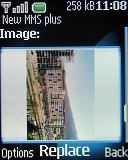 Creating an MMS with two different MMS editors is available with Nokia 3500 classic
A photo, a contact card, or an event from the calendar can be sent via MMS. MMS size limit for both send and receive is 300 KB. A handy feature of the phone is that it automatically scales down pictures for sending via MMS.
The third MMS editor is only handling audio messages. Nokia 3500 classic can either record the message on the fly or use a previously saved file. Finally, there is also a flash message composer.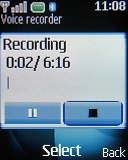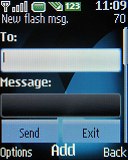 Audio message and flash message editors
Unfortunately, the built-in email client of Nokia 3500 classic is a java application instead of the native one we saw on recent S40 devices. Still it does the job and if you have an account with any of the popular providers (Gmail, Yahoo etc.) it will be of much help setting it up.
You can opt for either downloading the whole messages or the headers only. You can also set a limit for the number of emails to be downloaded. All in all, the usability of the client is good enough. However its speed is problematic. It takes its time in every task that requires accessing the network. Part of the problem surely lies in the limited speed EDGE is capable of providing.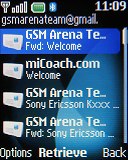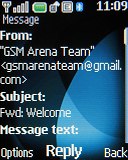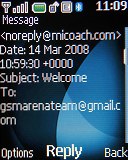 The email client is a java application
Music player is decent
The music player of Nokia 3500 classic reminds us of one the first XpressMusic handsets Nokia 5300. Two years later the application is still at a decent level, although no longer rated among the best on the market.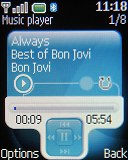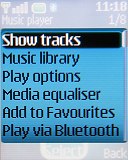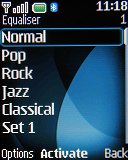 The music player interface and the available equalizers
Nokia 3500 classic manages all common audio formats, including MP3, MIDI, AAC, AAC+ and WMA. Tracks can be sorted by artist, album and genre. There are automatically generated playlists, containing your recently/most often played tracks and you latest music library additions. In addition you can also create your own Favorites playlist, containing any tracks you like.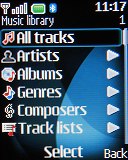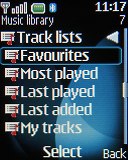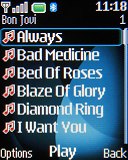 Tracks can be sorted by various criteria
A2DP support is good news for the music lovers. Unluckily there are no available skins for customizing the looks of the player but this isn't that much of a problem.
A nice feature of Nokia 3500 classic is the built-in 2.5 mm standard audio jack. Although not as widely spread as the 3.5 mm variety, the 2.5 mm audio jack gives you the option of changing your headset if you are not happy with the one in the retail package. Bear in mind however, that Nokia 3500 classic isn't the best performing handset in terms of audio quality so you shouldn't expect miracles from it.
Audio quality isn't impressive
Provided that even some of the high-end Nokia phones fail to deliver in terms of audio quality (such as Nokia N95 8GB), you can hardly expect miracles from Nokia 3500 classic. With this in mind we put the handset to our traditional audio quality test and the results didn't quite manage to win us over. All the readings are inferior to most other handsets we have put to this test. The frequency response is probably the best part, coming close to what N81 is capable of (which has the nicest volume quality among recent Nokias). However, the rest of the figures are far from satisfactory. The results follow, so you can see for yourselves. You can also find more about our test here.
| | | | | | | |
| --- | --- | --- | --- | --- | --- | --- |
| Test | Frequency response | Noise level | Dynamic range | THD | IMD + Noise | Stereo crosstalk |
| Nokia 3500 classic | +1.12, -0.89 | -69.4 | 72.5 | 0.017 | 0.115 | -68.4 |
| Nokia N81 | +0.39, -1.13 | -86.6 | 85.8 | 0.041 | 0.040 | -69.9 |
| Nokia 7500 Prism | +1.11, -1.46 | -72.6 | 72.1 | 0.0017 | 0.094 | -71.6 |
| Samsung U600 | +0.41, -1.12 | -89.2 | 86.5 | 0.040 | 0.019 | -86.9 |
| Sony Ericsson K770 | +0.21, -1.04 | -85.7 | 88.8 | 0.0014 | 0.030 | -84.8 |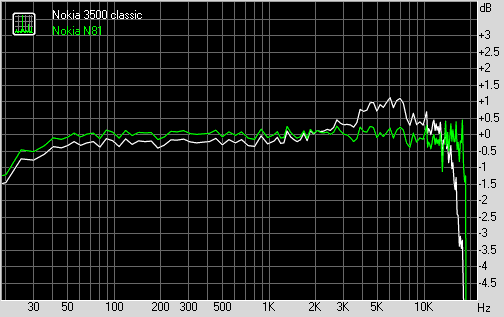 Nokia 3500 classic vs Nokia N81 frequency response graphs
If you get bored with the preloaded music contents, turn the stereo FM radio on. Stations are searched automatically or by direct entering of a certain frequency. The phone can store up to 20 stations. When you first start the radio application, Nokia 3500 classic offers to search all stations in your area and save them for easier access later on.
The radio can also be enjoyed on the loudspeaker; just make sure you have your earphones plugged in to get reception. We would have appreciated RDS but it seems too much to ask of the modest Nokia 3500 classic.
The video player is compatible with 3GP and MP4 formats. Videos can be played in fullscreen mode, as well as forwarded or rewound. It is however quite annoying to have the labels of the selection keys and the confirm key of the D-pad always visible. They are displayed over the video thus wasting parts of the display. We cannot help getting upset about it, provided that the Nokia 3500 classic display is too small anyways.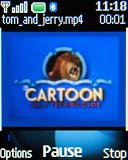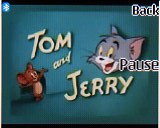 Videos can be watched fullscreen too, but the key labels still remain
All in all, if you like watching videos on your mobile phone Nokia 3500 classic is far from being the perfect option for you.