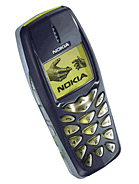 Y
This piece of shit was released in Romania along with "Star Wars - War of the Clones"...looooool...now is this irony or what? I guess the PR "experts" at Nokia finally got that the joke was on 'em and played along! laughed my ass off! "maybe better and more different phones learn to build Nokia should! not fool with the force shall thou!"lool
e
im really wondering why nokia is not making an ALL IN ONE phone like what ericsson, samsung and sendo did? NOkia is really fooling consumers with their "SO MANY MODELS".
X
I don't know why 3410 has Java and 3510 has not. Why did you release 2 phones that combined would be something great (the looks of 3410 + features of 3510 + java) but apart are shit???
a
This mobile really sux. It is terribly designed and has no cool features.
I'd rather buy T68!!!!!!!!
X
i almost forgot... change the display light. make it blue/white and certainly not orange/green. by the way, the keyboard layout sucks! a lot!
X
Functions look good. I hope it will have polyphonic composer and picture/logo editor. As for the exterior... IT COULD USE SOME IMPROVEMENT. SAME MISTAKE AS WITH 8310. Nokia, what happened?
H
Yo, could anyone call Nokia an wake 'em up?! It's as if the company's bein' run by some of those Gremlins-creatures with no imagination, but with an repetitive urge to produce the same old phone in retard-like designed covers...
Total of 215 user reviews and opinions for Nokia 3510.