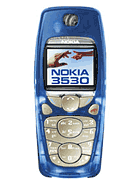 J
This phone SUX TO THE MAXIMUM!!! The phone is bulky, big and useless!! Wonder why Nokia comes up with this phone!
C
Dear Nokia , I have to remind you once more:We are not blind to buy your masterpiece of shit. And please do not think that We (Asian) are too stupid to smell yours. This's not our style, Bring it away from Asia. WE ARE NOT GAY, WE ARE NOT CHILDREN, WE ARE NOT BITCH!!!!!!!!!!!!!

?
wat wrongs with nokia.. why just dun give us some MP3 small size phones..?

m
we want to buy in big amount
but we do not know how to contact
we in Lao
R
No IR port? Come on Nokia... are you joking?!?

BTW, freeman talks like a poof.
Total of 355 user reviews and opinions for Nokia 3530.