Applications
Nokia 3600 slide comes with a good number of preinstalled applications outside the organizer too. The consistently useful unit convertor is first in the list of additional applications. It offers all kinds of converting options and, if provided with enough information about the rates, offers currency conversion too.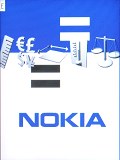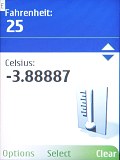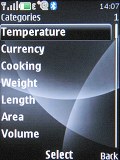 The unit converter is really nice
The Download! application follows, which directly connects to the Nokia download center, where you can find a lot of downloadable content for you phone, most of it free of charge.
The Search application is a built-in Yahoo! Search piece of software. After setting the country or region you can conduct web search for images and other information. The 20 most relevant search results are returned to your phone upon request. Find out more about the Search at nokia.com
The Nokia Sensor application is a Bluetooth-based tool for detecting other users in the vicinity and sharing information with them.
The Size convertor is another practical application. It makes approximate conversions between various international clothing sizes. You can also save several user profiles for size details in the size log.
Nokia WidSets are mini applications, which brings favorite web content to your mobile phone for free. The Java based service is offered by Widsets.com and it can work on every regular Java phone as well. Among the most popular widgets are the mobile versions of YouTube, Flickr, Ebay, Wikipedia, IMDb, and various weather forecast and news services.
The final featured application is World clock for checking the time in any time zone at the cost of only a few clicks.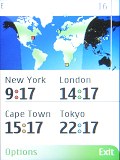 World clock applications is well familiar
Nokia Maps for S40
Nokia Maps has finally arrived on select S40 devices and the Nokia 3600 slide is among the first handsets to feature it. Among the things you can do without a GPS receiver is browse maps, look up addresses and locations, and plan routes.
With the Map Loader application for PC you can download map data to a compatible computer, and transfer it to your device to save on data charges.
Nokia Maps offers straightforward route planning. Having entered a start point and a destination, the application will plan your route with easy-to-follow directions to where you're heading.
If you pair the phone with a Bluetooth GPS unit, it turns into a full-fledged navigation decice. Furthermore, turn-by-turn visual and voice guidance are available upon purchasing a navigation license.
Putting down some Landmarks while you're on the go, or saving locations in the Favorites section is another available option. Favorites contents can also be exported/sent via MMS, which is a nice extra too.
Let the games begin
Gaming lovers will probably appreciate the preinstalled content on Nokia 3600 slide: there are as many as six featured titles.
Classic board game fans will be glad to find Backgammon II. It is a nice Java interpretation of the popular game. Snake is essential to Nokia phones, its presence in Nokia 3600 slide is barely a surprise.
Next two games in line are the sport simulation Golf Tour and the Java version of the popular Japanese game Sudoku. All the games have decent graphics and are comparatively easy to play.
The City Bloxx game is a challenge to both the brain and reflexes. Your goal is to create a city by stacking tower blocks on top of each other.
Music Guess tests your ability to recognize songs by listening to small parts of them.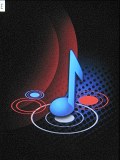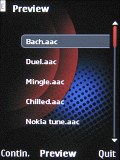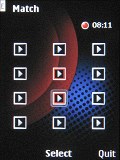 Music guess is a test for your musical ear
Conclusion
It sometimes seems lowish-end handsets are unjustly held to a higher standard by being expected to do just more than look and act their price. The neat and comfortable 3600 slide won't stun or surprise but you can count on reasonable performance. The smooth exterior can be quite a motivation to explore and ultimately appreciate quite a rewarding feature set: 16M-color QVGA screen, FM radio, stereo Bluetooth, memory expansion and Nokia Maps. The 3.2 megapixel camera is clearly unimpressive, especially given the high stakes on imaging, but TV-out and VGA video might make it easier to swallow.
It's obvious that in this price range you can't have it all, so not much point in lamenting 3G. The 6600 slide will shut you up anyway.