Handle without care
Nokia 3720 classic review: Handle without care

Tough S40 for a tough Nokia
The Nokia 3720 classic employs the Series 40 6th edition user interface. The UI is well familiar and the 6th edition novelties will hardly surprise you if you have been keeping track.
Active standby mode is available much like on its smart S60-based peers. The active standby adds new functionality to the homescreen - more that you would generally have on a feature phone by another brand.
The fields on this special homescreen consist of four sections that can be edited or relocated as users see fit. In the most common case, the top area is reserved for some shortcuts that give you instant access to favorite applications.
The second section displays today's events from the calendar. At the very bottom events from the calendar are displayed for the current day. A cool feature here, that even Nokia smartphones do not have, is the possibility to add a note to the active stand-by.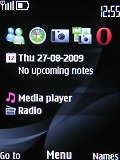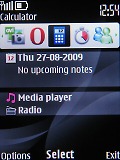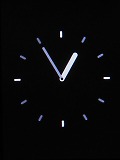 Active standby homescreen • a screensaver
The Nokia 3720 classic main menu can be visualized in four different ways: a grid of icons with or without captions, a list of items, and tabs. While each of them has its pros and cons our personal choice remains the typical grid view with icons.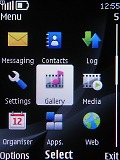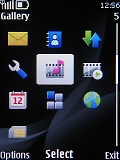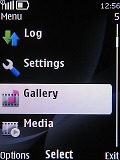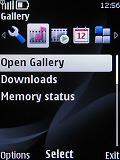 The four different main menu view modes
Typical for the S40 UI 6th edition, the icons themselves have been changed to match the current styling of Nokia Symbian smartphones and the 3D animation has been dropped. They can also be freely reordered within the grid, should the user find their original order inconvenient.
The color background of the entire menu, as well as the wallpaper on the display, can be easily modified by applying one of the pre-installed themes.
The Nokia 3720 classic comes with five preinstalled themes. All of them fit the ethos of the handset with their conservative styling. There are of course many additional themes available for download online. There are even some that produce sounds on certain events.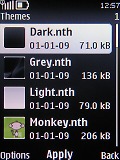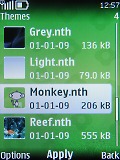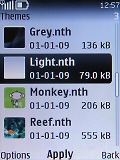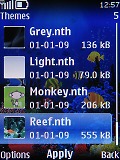 The rest preinstalled themes on Nokia 3720 classic
The Nokia 3720c menu seems to respond quickly, without any lags or holdups. This is the case with basically any S40 device nowadays and we wouldn't expect any less from the Classic series device.
Easy phonebook
The phonebook on Nokia 3720 classic offers space for up to 2000 contacts and extensive configuration options. Each contact can be assigned a variety of fields but the phone numbers are limited to 5. Also, first names are separated from last names eliminating problems which may occur with synchronization.
Different ringtones can be assigned to each contact. Naturally, you can also assign personal pictures or videos that will run on an incoming call.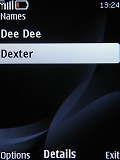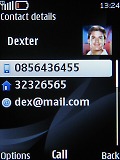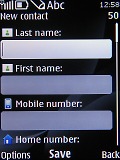 Editing a contact • a good number of fields to add
Searching is done by gradual typing. Contacts can also be organized in groups and these can subsequently be used as call filters. Another praiseworthy application is the voice dial, which requires no pre-recording of the commands and phonebook names. It is even equipped with a training application that helps get better results when using voice commands and/or dialing.
Telephony is perfect
Signal reception and call quality are in line with the Nokia 3720 classic's high standards. Calls are loud and clear on both ends eliminating any possible obstacles to communication. After all a handset like the 3720 classic is mainly intended to be used for making calls even in unfriendly environment and conditions so any compromise in this area would be a deal-breaker.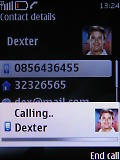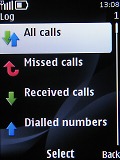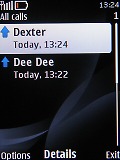 Calling Dexter • the typical call log
Here is how Nokia 3720 classic ranks along some of the other handsets we've measured in our speakerphone loudness test. It certainly doesn't have the loudest speaker around but it's not all too bad either. You can find more info about the test itself, as well as results from other tested devices here.
| | | | | |
| --- | --- | --- | --- | --- |
| Speakerphone test | Voice, dB | Pink noise/ Music, dB | Ringing phone, dB | Overall score |
| Apple iPhone 3G | 66.1 | 62.1 | 71.7 | Below Average |
| Nokia 6303 | 67.9 | 65.3 | 72.3 | Average |
| Nokia 3720 classic | 71.4 | 66.6 | 76.1 | Good |
| Nokia 6700 classic | 75.1 | 66.6 | 75.7 | Good |
| Sony Ericsson C702 | 75.8 | 75.7 | 82.7 | Excellent |
| Samsung B2700 | 81.3 | 75.7 | 82.8 | Excellent |
| Sonim XP1 | 81.8 | 76.2 | 82.7 | Excellent |