Google Photos is both the gallery and the video player
There are no custom apps for handling multimedia content on the Nokia 5. For gallery, you get Google Photos, which isn't half bad, though for most of its functionality you need to have cloud upload enabled. If you do, you'd be able to search for photos with words: "beach", "selfies" and even people by name. The AI assistance goes on - Google will automatically take photos (or videos) it finds interesting and spruce them up. It will create collages, panoramas, filter-heavy images, short animations and other.
You can, of course, stay offline, and then the album, GIF, and collage creation can be done manually.
Photos has a built-in editor too, which offers filters, light and color correction and basic cropping and rotation. There's no option for doodling on the images, or for slapping overlays and such - hardly a shortcoming, really.
There's no dedicated video player, Google Photos also takes care of that. Its feature set is basic at best - the most it can do is loop a video, and there is no subtitle support. You can, however, edit videos - trimming, 90-degree rotation, and stabilization are the available options.
Google Plays your Music
However, Google Play Music is still loaded on by default and it is a good thing too. It has come a long way and even if you don't intend to subscribe to Google's streaming service, it still offers bells and whistles like album art, powerful searching algorithms and also the neat ability to upload your own tracks to the cloud and stream them for free.
One issue we encountered was that the equalizer wasn't available - hitting the option in the app's settings took us to a blank page with a Dolby surround settings title. Perhaps it's a remnant of an old firmware build and it will be patched up in the future.
FM radio
Last, but not least, the Nokia 5 has you covered even when you don't have a Wi-Fi or data connection. The built-in FM radio works great for some oldschool, off-the-grid music. It even has RDS. No recording functionality, though. Also, for some reason if you tap on the star icon next to the frequency of the station that is playing, it means that you want to delete the station instead of add it to favorites. #Logic.
Audio output is nicely clean, but quiet
The Nokia 5 has as clear an output as you can get when hooked to an active external amplifier. Despite the stellar scores we can't give full marks due to the below average loudness, but a very good rating is still not bad for a phone in this price range.
Plugging in a pair of headphones does very little damage and the output remains nicely accurate - good job by the Nokia 5. Once again volume disappointed, but if quality matters to you the 5 is still an easy recommendation.
Test
Frequency response
Noise level
Dynamic range
THD
IMD + Noise
Stereo crosstalk
Nokia 5
+0.02, -0.03
-94.3
92.8
0.0035
0.019
-91.9
Nokia 5 (headphones)
+0.00, -0.09
-92.4
89.9
0.0041
0.016
-68.6
Nokia 3
+0.02, -0.11
-91.9
91.8
0.012
0.017
-91.8
Nokia 3 (headphones)
+0.88, -0.06
-78.7
77.6
0.039
0.348
-52.5
Sony Xperia L1
+0.10, -0.11
-93.6
92.9
0.0090
0.013
-93.8
Sony Xperia L1 (headphones)
+0.79, -0.10
-92.9
91.9
0.010
0.420
-53.1
Xiaomi Redmi 3s
+0.02, -0.07
-94.3
90.6
0.0024
0.0087
-91.8
Xiaomi Redmi 3s (headphones)
+0.02, -0.10
-93.7
90.3
0.028
0.061
-72.2
Oppo F1s
+0.37, -0.00
-71.2
75.3
0.936
1.190
-41.2
Oppo F1s (headphones)
+0.80, -0.05
-67.8
74.6
0.336
0.579
-42.3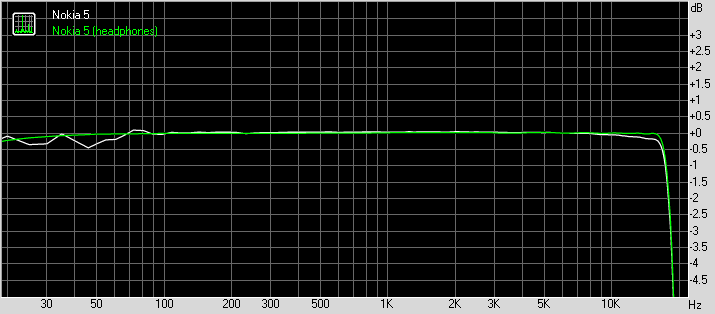 Nokia 5 frequency response
You can learn more about the tested parameters and the whole testing process here.