A Symbian phonebook
The Nokia 500 comes with a fully functional phonebook, which can easily be synced with your exchange account.
Symbian has been offering users virtually unlimited phonebook capacity and excellent contact management for quite some time and now the Anna also improves the SNS integration to bring it more up to date.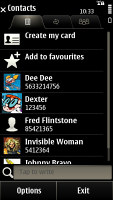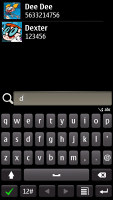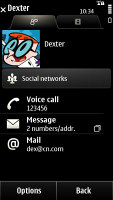 The renovated phonebook for 500
Contacts can be freely ordered by first or last name. You can also set whether the contacts from the SIM card, the phone memory and the service numbers will get displayed.
Selecting some of your contacts as favorites moves them to the top of the displayed list. This saves you quite a lot of scrolling.
Editing a contact offers a great variety of preset fields and you can replicate each of them as many times as you like.
You can assign personal ringtones and videos to individual contacts. If you prefer, you may group your contacts and give each group a specific ringtone.
A really nice touch when editing a contact's details is the option to enter their address by locating it on a map.
The social network integration includes Facebook and Twitter, which should be fine for the vast majority of users. You can see the latest status update right from the contact info - or at least the first two lines of it. Tap on it to read the full message or send a reply. That takes a few seconds though as the Social app needs to load first.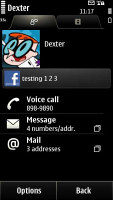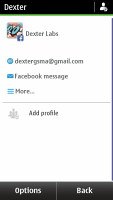 Checking out Dexter's Facebook profile through the phonebook
Telephony offers turn-to-mute
We didn't experience any call-related issues with the Nokia 500. Reception is solid, voice quality good on both ends of a call. The earpiece is loud enough and there were no interferences whatsoever.
Voice dialing is available on the 500 and gets activated by pressing and holding the call key on the home screen. It is fully speaker-independent and as far as we can tell performs greatly, recognizing all the names we threw at it.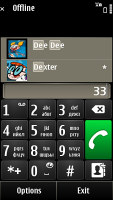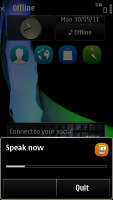 You can also use smart dialing • The 500 comes with pretty well tuned voice dialing
In noisier environments though, its effectiveness might suffer. Bear in mind too, that if you have multiple numbers assigned to a contact, the system will dial either the default number or the first in the list.
Smart dialing is also here - you just punch in a few letters from the desired contact's name and select it from the list that comes up to initiate a call. Searching by portions of the contact's phone number doesn't work though.
The 500 has the usual accelerometer-based feature that lets you mute the ringer by turning the phone face down is present. That same turn-to-mute trick also works for snoozing your alarm.
Thanks to the proximity sensor the screen turns off automatically when you hold the phone next to your cheek during a call.
The Nokia 500 lacks active noise cancellation, though.
The Nokia 500 sat our traditional loudspeaker test. The phone did well there and the Good mark it snatched means it should be loud enough for nearly every situation. More info on the test, as well as other results can be found
here
.
| | | | | |
| --- | --- | --- | --- | --- |
| Speakerphone test | Voice, dB | Pink noise/ Music, dB | Ringing phone, dB | Overall score |
| Samsung I9000 Galaxy S | 66.6 | 65.9 | 66.6 | Below Average |
| Nokia 701 | 63.1 | 58.7 | 66.3 | Below Averaeg |
| Google Nexus S | 68.1 | 66.3 | 69.3 | Average |
| Nokia X7 | 66.7 | 61.8 | 80.7 | Good |
| Nokia 500 | 73.9 | 65.7 | 75.7 | Good |
| Nokia N8 | 75.8 | 66.2 | 82.7 | Very Good |
| HTC Gratia | 73.2 | 73.6 | 83.5 | Excellent |
Messaging has conversations
The Nokia 500 can easily cater for all your messaging needs. All your incoming messages arrive in a common inbox. If you like, you can also get them sorted as conversations, in threaded view.
The Nokia 500 relies on a shared editor for all the types of messages. Stuff like a character counter in SMS goes without saying.
Insert some multimedia content the message is automatically transformed into an MMS. In that case, the character counter turns into a data counter showing kilobytes.
The Nokia 500 email client allowed us to setup our Gmail account quite easily, including syncing the account as an Exchange Active Sync one so that we'd get all our contacts. Usually, all you need is to enter a username and a password and you will be good to go in no time. The Active Sync setup required a few manual settings though and we believe Nokia should do something about it.
Multiple email accounts and various security protocols are supported, so you can bet almost any mail service will run trouble-free on your Nokia 500.
Messages can be filtered by various criteria such as date, sender, subject, priority or even by attachments, searching is available as well.
The client can download headers only or entire messages, and can be set to automatically check mail at a given interval. A nice feature allows you to schedule sending email next time an internet connection is available. This can save you some data charges since you can use the next available WLAN connection instead.
There is also support for attachments, signatures and basically everything you would normally need on a mobile device.
Proper portrait QWERTY at long last
With Anna, the Symbian portrait QWERTY keyboard has split screen support, meaning the top half of the screen is left for the app, while the bottom part is for the keyboard.
The keys on the portrait QWERTY are a bit small, despite the available screen estate. Still, you can activate word prediction, which will guess the word you're trying to type and show a small popup with the word you actually typed, in case you're trying to enter something like a user name (which doesn't have to be a valid word, in fact word prediction in this case gets in the way).
This eliminates the annoying situation of taking you out of the app and into a text edit screen and then back to the app (entering URLs in the browser and using the URL autocomplete was the most painful example). Also, you don't have to change orientations just to use the QWERTY keyboard, which was mightily annoying.
Still, it's not perfect - several apps would popup the old text edit screen, obscuring the app even though we were using the portrait QWERTY. The Ovi store app is an example of where that happens, which was a little disappointing.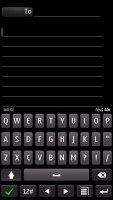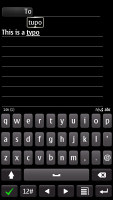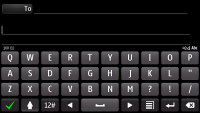 The portrait QWERTY is one of the best parts in Symbian Anna