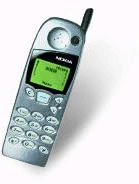 J
its an Ok budget phone, has all the basic features but its not for anyone who wants to do fancy things with their phone!! Id much sooner pay a bit (or a lot) more for the Nokia 6210
P
As for your website.....why the hell is it dating my entries as 1999? Jeez people, you can do better than this???
P
I think the 5110 is OK. However,I think it sucks that we cannot download ringtones for the 5110. Why the hell not?
Total of 987 user reviews and opinions for Nokia 5110.