Reporting for duty
Nokia 5130 XpressMusic review: Reporting for duty

Phonebook doesn't surprise
The phonebook on the Nokia 5130 offers space for up to 2000 contacts. As usual, a variety of fields can be assigned to each contact but the phone numbers are limited to 6. Ringtones can be assigned to each contact, as well as personal pictures or videos.
Like most S40 phones there are three available view modes for your contact list: List-of-Names, Name-and-Number and Name-and-Picture. It can display either the SIM card contacts or the phone memory contacts - having both at the same time is also an option.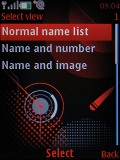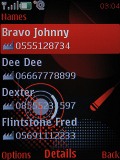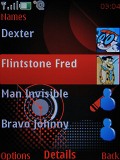 There are three different options for the phonebook view
The phonebook font size can also be modified should this be necessary, and it's an option that will be widely appreciated. Searching is done by gradual typing of the name of the corresponding contact. And that's not all: contacts can also be organized in groups and these can subsequently be used as call filters.
Another application to mention here is the voice dial: no pre-recording of voice labels is necessary.
A closer look at the phonebook menus reveals that the "Show on map" option is missing on the 5130, but well, the phone comes without Nokia Maps.
Telephony: good but still no smart dialing
As you might have guessed, signal reception and call clarity have not been compromised in the Nokia 5130. The calls are loud and clear on both ends and you will have no problems communicating with this phone. Vibration strength is moderate.
Nokia 5130 XpressMusic is among the many S40 Nokia phones to feature an active noise cancellation technology for suppressing background noise during calls.
If you were hoping for smart dial, you are going to be disappointed. It doesn't have it. It's about time though that Nokia introduced some sort of smart dialing in their feature phones as most competing manufacturers have already done so. It's quite convenient and might save the extra presses needed to get to the phonebook.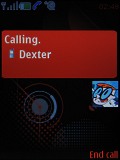 Making a phone call on Nokia 5130
The Nokia 5130 earned a 'Good' rank in our loudspeaker test. As you can see in the results table, the 5130 is noticeably louder than the 5310, but scored lower than the Nokia 5220. Subjectively, however, the Nokia 5220 sounded more than nice. You can find more details about our test, as well as the results of all other tested mobiles here.
| | | | | |
| --- | --- | --- | --- | --- |
| Speakerphone test | Voice, dB | Pink noise/ Music, dB | Ringing phone, dB | Overall score |
| Apple iPhone 3G | 66.1 | 62.1 | 71.7 | Below average |
| Nokia 5310 XpressMusic | 64.8 | 62.0 | 75.9 | Average |
| Nokia 5130 XpressMusic | 74.9 | 66.6 | 71.3 | Good |
| Nokia 5220 XpressMusic | 73.7 | 68.5 | 75.7 | Good |
| Nokia 5320 XpressMusic | 74.3 | 66.6 | 78.3 | Very Good |
| Samsung M3200 Beat s | 76.1 | 78.3 | 84.7 | Excellent |
The Call Log on the Nokia 5130 displays Dialed, Received and Missed calls separately, as well as all of them in bulk. Every submenu can hold up to 20 call records with their date, time and duration.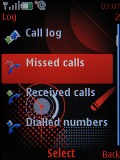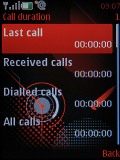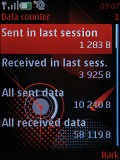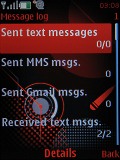 The Call log keeps track on all you communications
S40 messaging is ok
Nothing has changed in the messaging department and honestly why should it given that it works just perfectly. Besides standard text messages, Nokia 5130 is capable of receiving and sending EMS, MMS, IMs and email.
The SMS and MMS use one and the same editor and all you need to do in order to turn a regular SMS into an MMS is insert a picture or any other multimedia content.
Everything in the editor is intuitive and is organized in a practical time-saving manner. Once you have inserted the relevant number, a single click will shift to the message body where you can start typing. It goes without saying that the phone also offers a rich T9 dictionary.
A photo, a contact card, or an event from the calendar can be sent via MMS. The size limit for both send and receive is 600KB.
The email client does a pretty good job of meeting most user needs. It works with POP3, SMTP, and IMAP4 protocols and supports multiple email boxes. Even Push email is supported.
Email setup is now as easy as pie - just enter your email address, and if you use one of the popular public email services (Gmail in our case, but the list contains about 1000 email providers), the handset will automatically fetch the settings for you.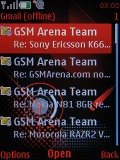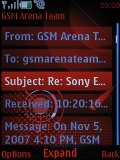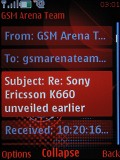 You can hardly want anything more from the native email client