Reporting for duty
Nokia 5130 XpressMusic review: Reporting for duty

2MP camera to put faces in your phonebook
The Nokia 5130 XpressMusic is equipped with a 2 megapixel camera with image resolution of up to 1600 x 1200 pixels. There's no flash or auto focus, but that's hardly a surprise on this type of handset.
The camera is more of a complimentary feature on the music-centric 5130, as it was in the 5220 and other music-oriented devices.
Typical Series 40, the camera settings are fairly limited but are still reasonable for this kind of shooter. They include white balance, three quality levels going from basic to high, and various effects. Sequence shots and shooting in both portrait and landscape mode are also among the available extras.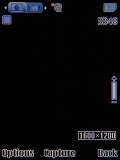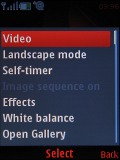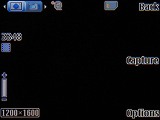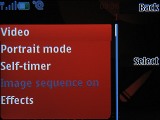 The camera interface can be set to work in both portrait and landscape mode
There are a few things likely to disappoint - there is no cover to protect the lens from scratches, the lack of a flash rules out night portraits, while the fixed focus is sure to ruin any attempt at a close-up.
The lack of a dedicated shutter button is another downer when it comes to operating the camera. It is quite uncomfortable to use the confirm button of the D-pad for that purpose, especially when shooting in landscape mode.
The image quality is not the best as the noise levels are quite high and there are traces of oversharpening, however the results are noticeably better than 2 megapixel snappers by Nokia say… a year ago.
The Nokia 5130 camera captures only QCIF resolution video clips. While they can be unlimited in length, their quality and resolution is only good for an occasional MMS.
There's stereo Bluetooth, but no 3G
Connectivity is at about the level you would expect in this price range. The Nokia 5130 XpressMusic has support for GPRS and EDGE to cover your wireless data transfer needs.
Bluetooth 2.0 is also on board for wireless short range connections. There is support for the A2DP profile, so you can listen to music on a stereo Bluetooth headset.
USB connectivity is really seamless. Thanks to the standard microUSB port and the supplied USB cable, connecting to a computer is hassle-free. Once connected, the phone memory contents as well as those of the memory card can be access on the computer.
Finally, a microSD memory card slot, which can sometimes be the most convenient way of transferring information, is also present here. It's not hidden under the battery, so you can hot-swap it problem-free.
Opera Mini for browsing the web
Opera Mini is the main and only pre-installed web browser on the Nokia 5130 and can be seen on all recent midrange S40 phones. The browsing experience is quite nice and thanks to the image compression it also lowers your wireless data charges.
However, the browsing experience would have been much better on a bigger screen.
Organizer is typical Nokia
The calendar brings no novelties either, and, frankly, it doesn't need any. Month, week, and day views are available for the calendar. The week can start on Monday, Sunday, or Saturday. There are five types of events: reminder, meeting, call, birthday and memo. Also, each type of event has its own specific fields like start and end time, type of alert with various intervals, such as daily, weekly, monthly, and yearly repetition.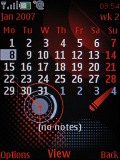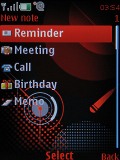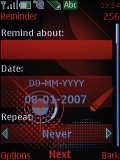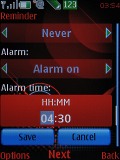 Calendar month view and setting up an event
There is also a handy to-do manager that lets you sort tasks into three priority levels. Tasks can be assigned an alert, as well as marked off once completed. They are easily synced with the calendar application. Text notes are available as well - their length is limited to 3000 characters.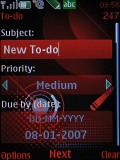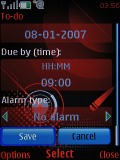 The to-do manager can surely help you get organized
The alarm clock is repeatable; it can be set to go off on any day of the week and works even when the phone is switched off. You can also customize the snooze interval if you wish.
The other organizer functions available include a voice recorder with a 60-minute length limit, stopwatch, countdown timer and a calculator. They are all decent looking and easy to operate.
The familiar Java apps
Nokia 5130 comes with a reasonable number of preinstalled applications. The only thing missing really is the office document viewer that can be found on every midrange Samsung and LG handset these days. Nokia should start adding some kind of an office document readers on their feature phones if they want to be on track with the competition.
The Search application gets you quick access to Yahoo! search. After setting the country or region you can conduct web search for images and other information. Find out more about the Search at nokia.com
The Nokia Sensor application is a Bluetooth-based tool for detecting other devices in the vicinity and sharing information with them.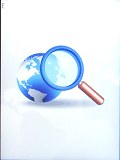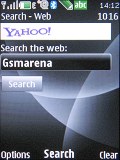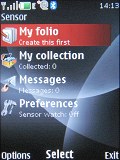 Search application • the Nokia Sensor application
The final featured application worth noting is World clock for checking the time in any time zone at the cost of only a few clicks.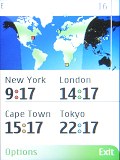 The World clock application is familiar enough
There is also Share on Ovi integration, which has recently become widely available on most of the Nokia handsets.
Sorry guys, but Nokia Maps don't come preinstalled on the Nokia 5130 XpressMusic.
Play time
The prebundled gaming package on Nokia 5130 includes three titles - the trademark Snake III, Rally 3D and a revamped Bounce, now called Bounce Tales.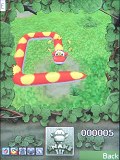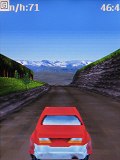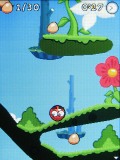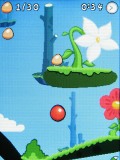 Snake III, Rally 3D and the Bounce Tales
Final words
The Nokia 5130 XpressMusic is small and cheap but has more character than you pay for. The remarkable audio quality and that extra bit of style should be more than enough for your money in any basic S40 package with a music slant.
The previous Nokia competitor in this category was the 5220 XpressMusic, which we duly reviewed. With an almost identical price tag, it gets its edge from Nokia maps and flight mode. But speaking of edge, the asymmetrical design can be too hard to swallow for some.
For mass appeal there's Nokia 5310 XpressMusic. We guess we just need to pay due respect to the Nokia music bestseller. This phone looks good and does the music right and you have the word of millions on it. It has the same price and similar features and that's a good enough reason for the 5130 to set its hopes high.

Nokia 5220 XpressMusic • Nokia 5310 XpressMusic
Unfortunately to the XpressMusic lineup, the newly introduced Nokia 5130 is in for some serious competition by now elderly midrange Walkmans, which enjoy a golden retirement.
The sharp-shooting Sony Ericsson K770, sexy Sony Ericsson W880 and the conservative Sony Ericsson G502 all offer more user-friendly and better looking UI plus 3G support. The K770 camera should not be underestimated either, while its audio quality is not that bad either. Nokia could have had a winner there if only they did more work on the UI. Instead they even cut down its only competitive features such as the Active Standby and Nokia Maps - not to mention basic stuff such as Flight mode.

Sony Ericsson K770 • Sony Ericsson W880 • Sony Ericsson G502
At the end of the day Nokia 5130 XpressMusic is an excellent handset with pleasing exterior and nice to feel finish. Unfortunately the S40 user interface implementation on the Nokia 5130 is heavily outdated, while the competition hardly sleeping.