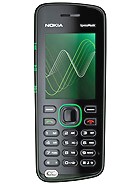 ?
Pretty stylish, and only stupid people would call this an imitation of SE's Walkman Phones. Please, not everything in this world is a copycat product. Open your mind a little.
?
what is this ugly phone created by NOKIA again and why is the features isn't good
?
It's the ugliest phone I've seen lately... well I know it's a Nokia, but even for them it's just to damn ugly... what's with that shape?? It should be called the ugly-asymmetric-walkman-imitation-bar!!!
n
what a great design!
i'm sure my cousin in nursery would love it. such nice curves and excellent colors.
way to go nokia!
e
what kind of freak...

do nokia have any sense of design...? even the spec is horrible...
A
this is realy a slick, good looking, sollid functional music phone... no overkill on any part of it.....
for the market it is aimed for, currently no contendant.....
c
XpressMusic again man
how many phones with they make like they are not even improving they are keeping old features but putting a new cover..... sell the cover and stop adding new junk phones....
Total of 2391 user reviews and opinions for Nokia 5220 XpressMusic.