The Nokia Nuron, or the Nokia 5230 if you prefer digits, is navigating towards T-Mobile USA and it's bringing free voice-guided navigation along with it. The 3G-enabled handset is the first carrier-supported device to come with the new and free Ovi Maps preinstalled.
The Nokia 5230 Nuron is modelled after the popular Nokia 5800 XpressMusic but drops the Wi-Fi capabilities and settles for a fixed-focus 2MP camera. What it gets in return is a hefty price cut.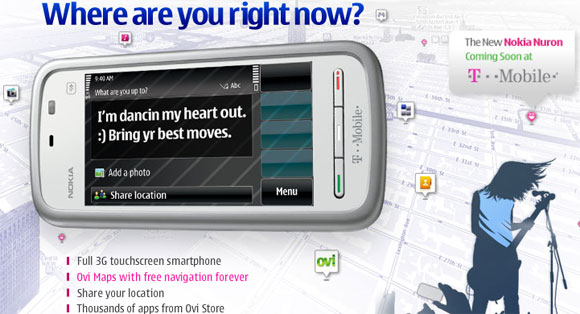 The Nokia 5230 Nuron features built-in GPS receiver coupled with the latest Ovi Maps that offers free voice-guided navigation. Ovi Maps does not download the map data over the Internet, so you can use it without a data plan.
The Nokia 5230 Nuron will come with the USA, Canada and Mexico maps preloaded and there are maps for another 180 countries available for download, free of charge. The Ovi maps apps also include Lonely Planet guides. Ovi Store will also be preloaded on the device and for simplified payment, T-Mobile plans to enable users to charge items to their monthly bill or their credit card.
The Nokia 5230 Nuron will become available in the next few weeks in select retail stores and through the T-Mobile USA website.
D
even ny set have the same problem. Do you found any solution??
J
My Nokia 5230 shows that there is a system error when I switch on or when I attempt to select the 'Date and Time' Settings Option. The clock only shows the arrows ably revolving but does not show figures or hour marks. What should I do?
v
Hey Everybody. First time poster... wanted to let you all know something that may be important to realize (and is NOT clearly stated on the T-Mobile site, or the Nokia site concerning T-Mobile). I have been awaiting the affordable 5230 (Nuron), and...
ADVERTISEMENTS