Connecting people
Data transfer options are a decent count on Nokia 5320. Every common network data transfer medium is supported and so are USB 2.0 and Bluetooth 2.0 with A2DP. HSDPA support just makes it all the sweetest.
There is also a card slot so if you have a card reader lying around you can transfer the data directly to your memory card.
The huge letdown about the Nokia 5320 connectivity is the absence of Wi-Fi. We got used to finding WLAN on our recent smartphones and we miss it in the 5320.
Browsing would've been better on a larger screen
Browsing the internet with Nokia 5320, like with all Nokia smartphones, is a nice experience. Even the most elaborate pages are rendered well and finding your way around them is a piece of cake The virtual mouse cursor earns the browser another point. It is easy to control and generally works great. A mini-map can be activated to help finding your way around large sites where lots of scrolling is required. The zoom level is also easily adjustable.
The large amount of RAM is surely one of the best things that could happen to the browser, as it is one of the most RAM-demanding applications indeed. Now, even if you load very heavy web pages and have a few applications running in the background, you are extremely unlikely to run out of RAM. The web browser also has full support for flash and java content so you can bet that you can see all the content around the internet.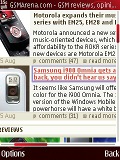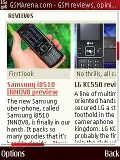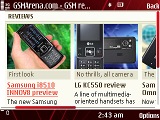 The very good web browser downed by the small display
The only problem is the smallish display. Only 2 inches means the smallest fonts aren't always readable and you have to go for larger ones. This in turn limits the amount of text fitting on screen and forces the user to scroll even more.
Organizer
The time-management skills of Nokia 5320, like most other Symbian handsets, are really good. Just name the application and you can count on it that the handset has it.
We start exploring the rich application package with the calendar. It has three different types of view - monthly, weekly and daily, and four types of events available for setting up - Meeting, Memo, Anniversary and To-do. Every event has its own unique fields, and some of them allow an alarm to be activated at a preset time to act as a reminder.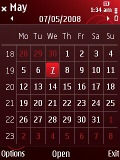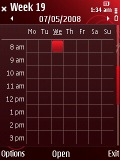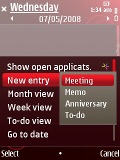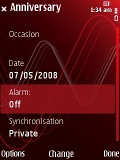 The calendar month and week views • setting up an event
The mobile office is also very well geared, with preinstalled applications able to open Word and Excel and PDF files seamlessly. Editing documents is not supported, but hey, we're not talking Eseries here. If you would like editing enabled you will have to purchase the complete application at the Nokia Download center. The final ingredient here is the included ZIP manager, which allows extracting archived files straight on your phone.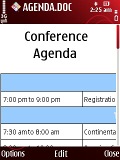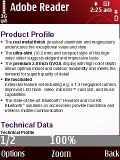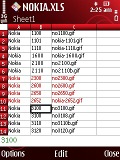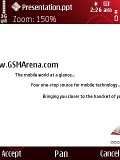 Nokia 5320 handles .doc .xls .ppt and .pdf files seemlessly
Some of the other included PIM applications are a great unit converter, calculator and voice recorder, as well as the Notes application. We are not going to get into detail with them, as their functionality and performance are familiar enough. The ActiveNotes application is also on board allowing multimedia content to be added to your notes.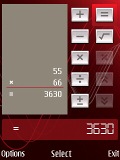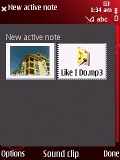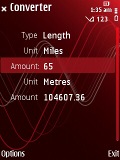 Calculator, activeNotes and converter
The alarm application allows a huge number of alarms to be set, each with its own name, trigger day and repeat pattern.
The useful "Search" application is also aboard the Nokia 5320. Its reserved line in the active standby menu no longer comes as a surprise. After all, an application this useful deserves to be conveniently placed. The application itself finds almost every item in your Nokia containing a given keyword. From messages to settings, every bit of data is checked and then all results are shown.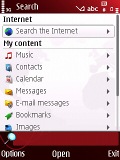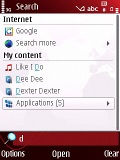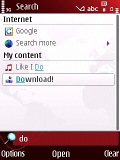 Every bit of data is checked by the search application
Finally, Nokia 5320 features a dictionary with a rather rich database. English comes pre-installed but you can also download dozens of other languages for free from the Nokia website.
Games galore
Gaming lovers will have no reason to frown at the Nokia 5320 preloaded content. There are 4 preinstalled games on our unit, and a shortcut to N-gage downloads. Unfortunately, N-gage support for Nokia 5320 is still in the works with no exact release date.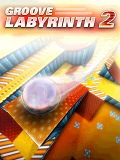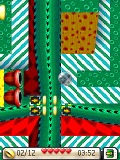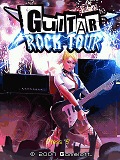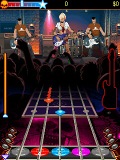 Groove Labyrinth 2 and Guitar Rock Tour
On top of that, there are plenty of third-party games out there, so Nokia 5320 users can easily download both native and java titles.
Final words
We're talking XpressMusic, so we just have to say it: the 5320 makes a notable step up in audio quality. Still not the best in business, but it's way to go. The distinct youthful appeal is both a blessing and a curse, as it may put off those who favor smartphone power over music skill. There's some questionable design decisions too. They got rid of the swivel and, however subjective, possibly lost some of the charisma. Plus, the 5320 is definitely low key even compared to the way more modest 5310.
The 15-months-old 5700 was well due for an upgrade, so a youthful music-centered Symbian phone has its reasons to hope for a success. The improved sound quality, FP2, the doubled RAM and the more compact size sound right but the 5700 has stereo speakers, and a better display and keypad.
The lack of Wi-Fi however is still a downer and so is the smallish display. We do agree that there aren't many Symbians in this price range to feature Wi-Fi but that doesn't make the 5320 any less exposed to pressure.
The 5320 stays faithful to the XpressMusic-on-Symbian concept and makes it hard to decide whether smartphone strength or the music heart give it the extra edge. It sounds like we grew older overnight, but this time the young targeting somehow just couldn't have been more distinct. With that in mind, Nokia 5320 was just released and even a small price drop in the coming weeks may do wonders for it.