A sharp note
Nokia 5630 XpressMusic review: A sharp note

Organizer and apps (continued)
If the gallery file-management options (which even include sending multiple files at a time) is insufficient you can use the file manager. It allows you to do almost anything you can think of with your files. Copying, moving, creating new folders - you name it and it's a safe bet that the file manager can do it.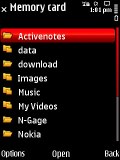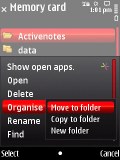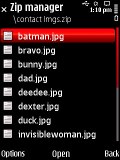 The file manager is our favorite • zip manager
The useful "Search" application is also aboard the Nokia 5630. The application itself finds almost every item in your handset containing a given keyword. From messages to landmarks, every bit of data is checked and then all results are displayed on the screen.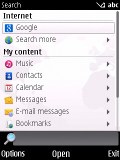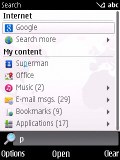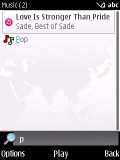 Every bit of data is checked by the search application
Finally, the Nokia 5630 features a dictionary with a very rich database. English comes pre-installed but you can also download dozens of other languages for free from the Nokia website.
Games are N-Gaging
Nokia 5630 comes with N-Gage support and several preloaded games. They are trial versions but there's an activation code provided so you can activate one of those games for free. You can of course download new games but they are trials all the way unless you are willing to pay.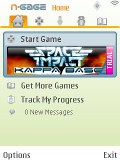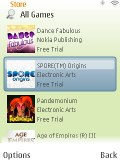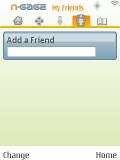 There's a lot of N-Gage games, but they are trial versions
On top of that, there are plenty of third-party games out there, so Nokia 5630 users can easily download both native and java titles.
Final words
Nokia are not only keen on populating the XpressMusic grid, they're tailoring and focusing their handsets to cover a wider market. Come to think of it, the XpressMusic portfolio is more like the standard 4-digit models - the "common" phones that are neither top-of-the-line media gadgets nor business tools.
The XpressMusic phones get their edge elsewhere - they're reasonably priced and specialize in music. Throwing Nokia 5630 XpressMusic into the mix, there's a wide range of phones to choose from. Starting with the run-of-the-mill S40 handsets like 5130 or 5310 and going all the way through capable Symbian smartphones to the touch-enabled 5800. The 5630 even has a side-sliding QWERTY counterpart - the Nokia 5730 XpressMusic.
The Nokia 5630 XpressMusic is a great upgrade over the 5320 - faster 3G, Wi-Fi on board, improved camera, a speedy CPU and all in a 12mm slim package. The Contacts bar is a great addition too - all the most common tasks can be carried out in the comfort of the homescreen. Ovi Contacts is a nice feature too, considering that a big part of all communications of a typical high-tech adolescent now goes through some IM network. We'd have liked to see support for more networks though.
The one thing we'll probably never see on an XpressMusic phone however, is a high-resolution camera - with Wi-Fi, GPS and even touchscreens, they'd be too deep into N-Series territory and it's important for Nokia to maintain their brand distinctions.
So, Nokia have taken quite a bite at the music-enabled handsets market with some multi-talented players in Symbian shirts.
If you can live without Wi-Fi support and will settle for a chubby chap with a weaker camera, CPU, and data speeds, the 5630's predecessor - the Nokia 5320 XpressMusic - is the entry level alternative.
If you like the 5630, but want to round off the already impressive package with a QWERTY keyboard and a bigger screen, the side-sliding 5730 XpressMusic is already up for grabs.
Then again, if you want to go up the ladder and have a touch-based UI and GPS, then the 5800 XpressMusic is what you're looking for. It's got a slower CPU but bigger 3.2" screen and VGA@30fps video recording.
What we really like about the Nokia 5630 XpressMusic is that it sits comfortably in the middle of all this without losing sight of its one goal - to be a good portable music player. It has the audio-quality and smartphone chops to pull it off without burning a hole in your pocket. We would have liked a beefier camera, but we guess keeping the market price down has been the main priority with Nokia 5630 XpressMusic.