Let's take some pictures
We made it clear that Nokia 5700 is a phone aimed at the young. So having a camera is an essential thing. The handset is armed with a 2 megapixel camera with a maximum available resolution of 1600 x 1200 pixels. The camera settings are not as limited as in its business brother E61i, for example, but still this is not the most highly customizable camera in the world. The available settings include: panorama, night mode, sequence, self-release, white balance, and color effects. The panorama is an interesting feature similar to that found on Sony Ericsson devices. It allows you to combine several shots in a single picture. The only flaw is the low vertical resolution it uses. We couldn't produce a picture more than 230 pixels high no matter how hard we tried. You can also adjust white balance and color tone manually. Flash settings are also present although the built-in LED flash is quite inadequate even indoors. Pictures are stored in JPEG format and carry EXIF information. As far as quality is concerned, we find the 2 megapixel camera a jot below-average, but still passable. The picture quality is pretty much the same as the one of the Nokia E70 - they seem to have identical hardware and processing. Somewhat confusingly, the shutter sound goes off a second or something before the actual capturing of the picture so you really have to keep the handset still even after you've heard the sound in order to take a picture of your intended subject. The camera button is quite comfortable to press when the swivel is twisted to 90 degrees but the joystick is not, as it is located too close to the rotating part and therefore can make adjusting the camera settings quite a hard job.




Camera interface is not as simplified as E61i but still isn't the most configurable of all
Here are some sample photos made with Nokia 5700 camera: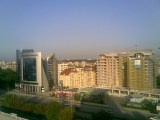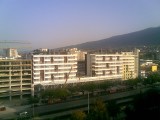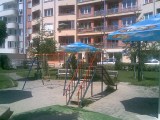 Outdoor shots: photos are usable only if taken in perfect light conditions • the camera is not good with highlights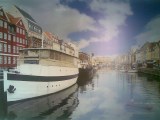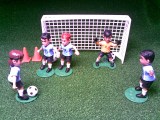 Studio shots: colors are washed and are far from the original


Panorama mode: each individual shot is made in QVGA resolution (320 x 240 pixels)
As far as video is concerned, the maximum video resolution is 320 x 240 pixels (QVGA) and video is recorded at 12 fps in the MPEG-4 video format. The digital zoom during recording is smooth - unlike that of Nokia N80, N93 or N95. The movie editor (Muvee) program is also available allowing you to create your own movies.



Video and camera setting aren't rich in options
Nokia 5700 sample video - QVGA 12fps
Hello world
In terms of connectivity Nokia 5700 is in the golden mean: not the most loaded of all devices, but still won't let you down in most cases. Besides the already mentioned Bluetooth 2.0 with A2DP, the phone supports USB connectivity, which works seamlessly, and an Infrared port, which seemingly is making an unexpected comeback in most new Nokia models. The network capabilities for data transfer include HSCSD, GPRS and EDGE as well as UMTS of course. Latest support for SIP-based VoIP services is also available.
WWWonderful
Web browsing with Nokia 5700i is a sheer pleasure as is the case with all current Nokia smartphones. The web browser makes even very sophisticated pages fit on the screen and displays web pages just as on PC. There is no doubt that the great display helps a lot here.
There is even a mouse cursor which can be operated through the four-way navigation button. Surprisingly, it works great and is very easy to control, except for the uncomfortable joystick. A semi-transparent mini-map of the page shows up on the screen when scrolling a webpage. The mini-map can also be accessed by a shortcut - the "8" key. You can zoom in and out on the page using the "*" and "#" buttons. Of course, on 5700 all those shortcuts are available by using the selection key.
| | |
| --- | --- |
| The Nokia 5700 performance as a smartphone is by far superior to its music capabilities. The latter are only slightly above average. So if you are looking for a phone to use for strictly music purposes, you'd better look elsewhere. | ADVERTISEMENTS |
Most of the sites we logged on to (including gsmarena.com, check out the screenshots) looked exactly like on PC. Even when loading complex pages, the web browser was fast, no slowdowns in the scrolling speed. The browser also handles Flash objects and has no problems dealing with Java Scripts. All-in-all, it's an impressive job from Nokia. Generally, this browser remains the best mobile browser we've seen so far.



Web browsing is one of Nokia's specialties
The Symbian web browser is unable to open simple WAP pages so for that purpose the Nokia 5700 is equipped with the much simpler WAP browser called Services.
Plan and go
The phone has various organizer applications and features. The Calendar has Month, Week and Day views. You can schedule a Meeting, Anniversary, Memo and To-do in the Calendar. All those can be set alarms.





Calendar is simple but effective
Applications aren't the 5700's element. The Quickoffice is missing here and so are the PDF reader and the ZIP manager. Converter, calculator and voice recorder are available, as well as the Notes application. They have the same well-known functionality as in other Symbian devices.




A glance at 5700's applications - Calculator, Converter and Voice recorder
Finally, the phone has an excellent Tutorial tool which describes the main functions of the phone in a very user-friendly way.


A user-friendly tutorial helps you to get to know the phone quicker
Game on
Nokia 5700 comes with the same two preinstalled games the Nokia 6120 classic has. Both are very entertaining. Moreover, Nokia has set up the www.nokiazine.net website, where you can find a lot of free new games for Nokia 5700. Although not very popular at this stage, Nokiazine is expected to play a key part in some Nokia campaigns in the future.


Games menu can be filled up with free games form Nokiazine



Marble game: shooting down marbles in series of at least 3 in matching color



City bloxx: build a city by skillfully constructing towering residential buildings. A game of logic and quick reflexes, it was appreciated all around the GSMArena team.
The verdict
Having squeezed every last drop out of our Nokia 5700 let us end our review by putting everything in context and saying a few words about our general impression. We believe we've answered the question at the beginning of the review. The Nokia 5700 performance as a smartphone is by far superior to its music capabilities. The latter are only slightly above average. So if you are looking for a phone to use for strictly music purposes, you'd better look elsewhere. Are you after a balanced overall performance? Look no further. Nokia 5700 is exactly the phone for you and its unmatched speed will never make you regret your purchase. We really don't believe that the target audience should be confined to music fans. This highly capable handset is a true value for money.