Full musical keyboard
Nokia 5730 XpressMusic review: Full musical keyboard

Nseries-grade image gallery
The image gallery was a pleasant surprise - it's the same as the one found in Nokia's N-Series phones and looks great. The speed of photo browsing increases if you press and hold the direction buttons on the D-pad. This allows quick skipping of tons of files if you're not in the habit of sorting out your memory card regularly.
Unlike Nokia 5630 XpressMusic with its zippy 600 MHz processor, where zooming was very speedy, the result here is more comparable to devices like say, Nokia N85, which shares 5730's CPU.
The gallery has a very good picture tagging system. In addition to geotagging, which is automatically handled by the camera, you can add as many tags as you like to each photo and then use them as filters. There's also the option to organize photos in Albums.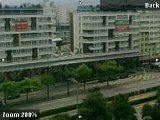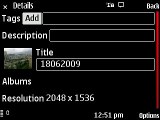 Zooming in • you can add tags to photos
Camera is good and that's just about it
The Nokia 5730 is equipped with a 3 megapixel camera with a maximum image resolution of 2048 x 1536 pixels. It sports an LED flash but no lens protection whatsoever. This means that the glass covering the lens is prone to finger smudges. Unlike the so called enhanced fixed focus of 5630 XpressMusic, 5730 has true autofocus.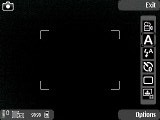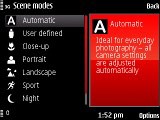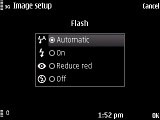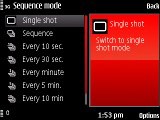 The camera user interface is pretty familiar
As far as settings go, the camera on 5730 XpressMusic is limited, although it offers several scene presets, one of which is user defined. It is also possible to change the flash or the sequence mode and set the self-timer. On the right side of the screen, there's a bar with shortcuts for some settings. You can add and remove shortcuts so you can have quick access to the settings you need.
Among the interesting features is the sequence (read "multi shot") which captures consecutive images one after another (6 images or - if you hold down the shutter key - until you release the key or the memory runs out). After that you can pick which images to keep.
There's also an option to capture consecutive images separated by a predefined interval (from 10 seconds to 30 minutes).
Image quality
The image quality is good overall, with decent levels of detail for a 3MP shooter. There's little noise in well lit areas and the contrast is good. The color rendering is accurate; however the sharpening algorithm gets overzealous, which results in artifacts.









Nokia 5730 XpressMusic camera samples
As for video recording, the Nokia 5730 XM camera shoots in VGA resolution at 30 fps captured in MPEG-4 format. This seems to cause quite a controversy as some Nokia specs pages claim VGA@15fps. But trust us, the 5730 shoots in VGA@30fpas and you can check out a video sample, if you wish.>
Although this is a decent achievement, the quality is rather poor actually much like it is on the Nokia 5540 XpressMusic, which also turned out equipped with VGA@30fps video recording.
Synthetic resolution
Finally it comes the time for our studio resolution chart. This is a standard ISO12233 chart used for evaluating the synthetic resolution of digital cameras. It is an excellent tool for measuring pure horizontal and vertical resolution and also offers a good reference point for comparison of resolution between cameras. You can check out what that test is all about here.
Here's a comparison of the camera on the 5730 XpressMusic and the one on the iPhone 3GS. They perform about equally, as might be expected (both are 3MP autofocus snappers). The iPhone 3GS has a really small edge in resolved resolution. The noise suppression algorithm on the Nokia is too aggressive, resulting in perhaps cleaner but more processed-looking photos.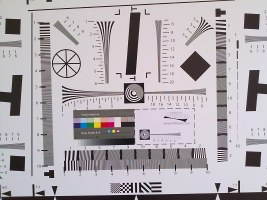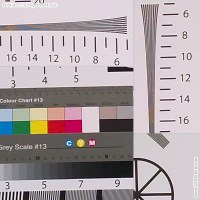 Nokia 5730 resolution chart photo • 100% crops