Full musical keyboard
Nokia 5730 XpressMusic review: Full musical keyboard

All-round connectivity
Data transfer options are numerous on the Nokia 5730. Every common network data transfer medium is supported and so are USB 2.0, Bluetooth 2.0 with A2DP and HSDPA support up to 3.6Mbps. Nokia 5730 also has Wi-Fi capabilities to really sweeten the deal.
There is also a card slot so if you have a card reader lying around you can transfer the data directly to your memory card. The card is accessible from a slot on the right side, but it's too deep and getting to it can be quite a challenge.
The web browser gets a QWERTY keyboard
Browsing the internet with the Nokia 5730, like with all Nokia smartphones, is a pleasant experience. Even the most elaborate pages are rendered well and finding your way around them is a piece of cake.
The virtual mouse cursor earns the browser another point as it is easy to control and generally works great. A mini-map can be activated to help you find your way around large sites where lots of scrolling is required. The zoom level is also easily adjustable and searching for text on a page is easy.
The large amount of RAM is surely one of the best things that could happen to the browser, as it is clearly one of the most RAM-intensive applications. Now, even if you load very heavy web pages and have a few applications running in the background, you are extremely unlikely to run out of RAM.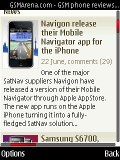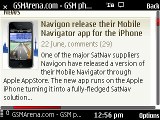 The perfect combination: great web browser and a comfy QWERTY keyboard
The web browser also has full support for Flash and Java content so you should have no problem watching content found on the Internet. If you're watching a video on YouTube for example you can click on the video and view it fullscreen. That doesn't always work as some sites use clicking on the video for play/pause but the option is accessible from the menu. That option is needed as videos generally are too big to fit in the QVGA display, which a real shame.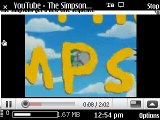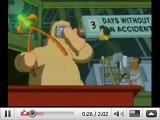 YouTube video playing in the browser (50% zoom) • the video playing in fullscreen
The only problem could be the kinda smallish display (compared to the competition). 2.4 inches means the smallest fonts aren't always readable and you have to go for larger ones. This in turn limits the amount of text that can fit on screen and forces the user to scroll even more.
The QWERTY keyboard, on the other hand, is remarkable.
Organizer and apps
The time-management skills of Nokia 5730, like most other Symbian handsets, are really good. Just name the application and you can bet the handset has it.
We start exploring the rich application package with the calendar. It has three different types of view - monthly, weekly and daily, and four types of events available for setting up - Meeting, Memo, Anniversary and To-do. Every event has its own unique fields, and some of them allow an alarm to be activated at a preset time to act as a reminder.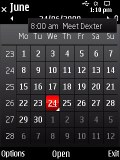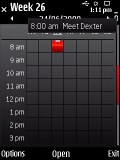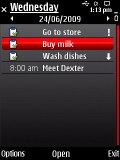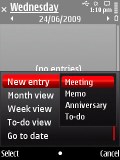 The calendar month, week and day views • setting up an event
The mobile office is also very well supported with preinstalled applications able to view Word, Excel, PowerPoint and PDF files seamlessly. Editing documents is not supported out of the box, but hey, we're not talking Eseries here.
If you would like editing enabled you will have to purchase an upgrade to Quickoffice straight from the device.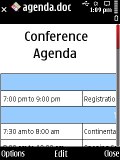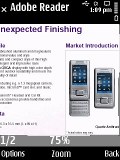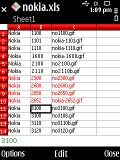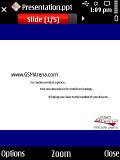 Nokia 5730 handles .doc .xls .ppt and .pdf files seemlessly
Some of the other included PIM applications are a great unit converter, calculator and voice recorder, as well as the Notes application. We are not going to go into detail with them, as their functionality and performance are familiar enough. The ActiveNotes application is also on board allowing multimedia content to be added to your notes.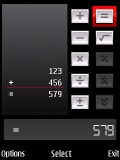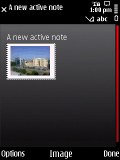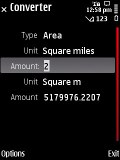 Calculator, ActiveNotes and converter
The alarm application allows a huge number of alarms to be set, each with its own name, trigger day and repeat pattern.
If the gallery file-management options (which even include sending multiple files at a time) is insufficient you can use the file manager. It allows you to do almost anything you can think of with your files. Copying, moving, creating new folders - you name it and it's a safe bet that the file manager can do it. And the included ZIP manager allows extracting archived files straight on your phone.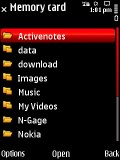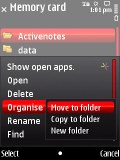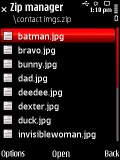 The file manager is our favorite • Zip manager
The Share online application helps you to upload diverse type of files (images, music or flash files, etc.) using Ovi, Fox or another similar service. It works like a charm and since the 5730 supports Wi-Fi you won't have to worry about the data traffic caps.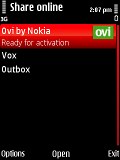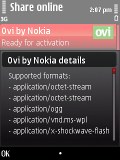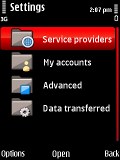 The Share online takes full advantage of the inbuilt Wi-Fi support
Also very useful is the AccuWeather app which is popular enough. You can not only check up the weather forecast for the next several hours but also to take a look at a 15-day forecast.
There is also a preloaded app dedicated to the nature lovers. It's called we:offset and according to Nokia is the first mobile CO2 emission offsetting tool. You can calculate how much CO2 will be emitted if you (and/or your friends) decide to take an airplane from one location to another and to buy carbon offsets to compensate for that.
Your money will reach fund projects which absorb, reduce or avoid an equivalent amount of greenhouse gases being released elsewhere. The we:offset app is based on JP Morgan's ClimateCare service. If you're interested in our planet's future, follow that link for more details.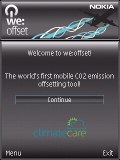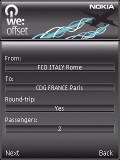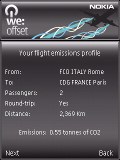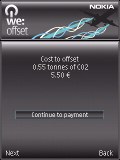 A trip for two from Rome to Paris
Finally, the Nokia 5730 features a dictionary with a very rich database. English comes pre-installed but you can also download dozens of other languages for free from the Nokia website.