Two months after the Nokia 5800 Navigation Edition became available across various countries around the globe, it finally made its way to the USA. And as you might guess, the price is considerably lower than elsewhere.
Nokia 5800 Navigation Edition is an upgraded version of the popular Nokia 5800 XpressMusic touchscreen device that comes with lifetime voice-guided navigation for North America and a car kit so it can be easily mounted on a dash or windshield.
Nokia 5800 Navigation Edition uses Ovi Maps for mobile, offering real-time turn-by-turn navigation both in vehicle and on foot. The Ovi Maps offers safety features like speed limit warnings and speed camera alerts, and near real-time information on traffic congestion due to roadwork or accidents. When walking, the service provides pedestrian-friendly directions, including routes that take a pedestrian up one-way streets and through parks, pathways and other shortcuts.
Unlike Google Maps Navigation that seems so hip right now in the US, you can actually preload the map data on the Nokia 5800 so you don't have to download it over the air as you move about.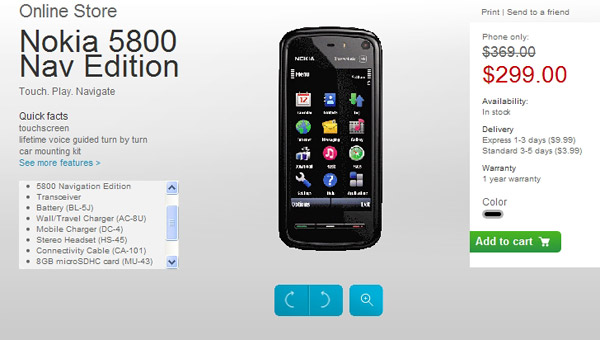 When bought from Nokia USA's online store the SIM-free Nokia 5800 Navigation Edition costs only 299 US dollars (200 euro), discounted from 369 US Dollars (250 euro), which is a great deal heaving in mind the 300-euro price tag of the Nokia 5800 Navigation Edition for us on the Old Continent.
Nokia also went ahead and announced the Nokia E72 US availability today even though it was already spotted listed In Stock at the Nokia online store a few days ago.
t
this camera it very bad,. Cant you Help phone setting came??
o
i just bought Nokia 5800 express music yesterday and the price was $225. is it cheap or expensive?
ADVERTISEMENTS