Young as you feel
Nokia 5800 XpressMusic review: Young as you feel

It's touchscreen o'clock for Nokia and the stage is set for the 5800 XpressMusic. Go ahead and touch it. We did and we've got a story to tell.
Now, it's technically not the first time Nokia get their hands dirty with touch screens, but it sure feels they really mean business this time. For Nokia 5800 is not the only story here. The smart platform with the most influential touch receives its first trial by touch. Being the first device running Series 60 5th alone is enough for the 5800 to be remembered by.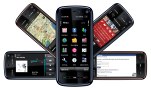 Nokia 5800 XpressMusic official photos
Update, 03 Feb 2010: After this review was published Nokia optimized several aspects of the performance of the Nokia 5800 XpressMusic through firmware updates so we felt an update was due. You'll find the updated bits and pieces throughout the review marked in bold.
You can check whether you have the latest firmware for your Nokia 5800 XpressMusic over here.
It's a first try and proceeding with caution is only fair. Nokia 5800 is unthreateningly and unobtrusively positioned in the mid-range and the XpressMusic branding helps share some of that first-S60-touchscreen weight. Still, it's way more than an affordable music-centered handset. The 5800 has a strong and unmistakable Nokia identity and delivers multimedia prowess. So, let's touch, shall we?
Key features:
3.2" 16M-color TFT LCD 16:9 touchscreen display (360 x 640 pixels)
Symbian S60 5th edition
ARM 11 434 MHz CPU, 128 MB of SDRAM memory
3.2 megapixel autofocus camera with dual-LED flash
VGA video recording at 30fps
Dual-band 3G with HSDPA support
Quad-band GSM support
Wi-Fi
Capable GPS receiver and Nokia Maps 2.0 Touch
microSD card memory expansion, ships with an 8GB card
TV out
FM radio with RDS
Bluetooth and USB v2.0
3.5mm standard audio jack
Excellent audio quality
Landscape on-screen virtual QWERTY keyboard
Proximity sensor for screen auto turn-off
Accelerometer sensor for automatic UI rotation and motion-based gaming
Rich retail package
Affordable price
Office document viewer
OVI and MySpace integration (direct image and video uploads)
Main disadvantages:
Limited 3rd party software availability
UI is still immature with somewhat dodgy user experience
Touchscreen sensitivity not the best in the class
No smart dialing
Poor camera image quality
Touch web browser not quite polished
No office document editing out-of-the-box
Doesn't charge off microUSB
Now, you're not the only one waiting for Nokia 5800 XpressMusic. A legion of touchscreen phones have been busy delivering more and better, and owning that market. They sure won't be giving Nokia and S60 5th the warmest of welcomes.
At this point, Nokia 5800 may as well be more of a trespasser than a worthy rival. We mean, stealing even the tiniest bit of market off such formidable competition should be a win to savor for every newcomer. And still, we shouldn't be looking at the actual handset alone. Maybe the 5800 isn't make or break for Nokia, but S60 5th should darn well be.




Nokia 5800 XpressMusic at ours
We're looking at the first S60 touchscreen. A lot less hoping for the best than preparing for the worst may sound like the right kind of attitude. Because a first try will be measured by just anything that lives and breathes, and has a touchscreen. So, let's see what Nokia 5800 XpressMusic is up against. Just mind you that it's more than just the names of a few handsets - it's generations of touchscreen development.
Apple may be looking down with amused detachment at yet another iPhone-killer wannabe. We guess Nokia 5800 XpressMusic doesn't want that label but it won't escape it. We are talking the market leader against the touch interface pacesetter. Maybe not this time, but this one is worth keeping an eye on in the long run. At this point though, for the price of an unlocked contract-free iPhone 3G you can easily obtain two Nokia 5800 XpressMusic handsets - sounds a bargain, doesn't it?





The Nokia 5800 vs Apple iPhone 3G
Windows Mobile is well into the picture too. Recent HTC models (Diamond, Touch HD) and Samsung i900 Omnia have shown that powerful multimedia is no orphan in the WinMo world. Loads of 3rd party software and cool and nifty UI plug-ins (TouchFLO 3D, TouchWiz) are great assets but the heftier price tag sets them back a bit. The Diamond comes closest to the Nokia, but it's still about 30 euro (40 US dollars) more.




The Nokia 5800 XpressMusic next to HTC Touch Diamond and Samsung i900 Omnia
LG and Samsung are also quite versed in the ways of touchscreen. Both makers have sizeable touch portfolios, ranging from affordable, non-smart touchscreens to 8 megapixel multimedia monsters. Samsung do boast a bunch of WinMo touch devices too. What's more, the company is keen enough on Symbian too, so that's potentially another "touching" chapter in the rivalry between the top two market-share leaders.
So, obviously the touchscreen game is no joke - it's getting tougher by the minute out there. Let's now check if the Nokia 5800 XpressMusic has what it takes to play along. We just took a peek in the retail package and - boy, are we impressed. Join us on the next page, where cheers roar as the box breaks open.
S
Hi I wontNokiaphonenew5800xprss music Can have thas phon?