Young as you feel
Nokia 5800 XpressMusic review: Young as you feel

Image gallery - touch steps up
The gallery of Nokia 5800 XpressMusic is yet another part of its interface that hasn't been drastically changed compared to its predecessors. It has neither the swanky 3D view mode, nor the customizable slideshow we are used to seeing in the Nseries. The only difference here is the added touch-friendliness. In fact, the gallery is one of the very few places around the interface where sweep gestures are allowed.
This means that you can change pictures by sweeping your finger across the screen when looking at a single photo. Opting between portrait and landscape mode is automatic, thanks to the built-in accelerometer. Unless you have that feature disabled, all you need to do to switch modes is to flip the phone sideways.
The photos can also be zoomed in to see more detail but the screen resolution makes sure you won't need it as much as usual. Zoom is controlled via either the volume rocker or an on-screen touch slider. In all other cases, images are displayed full screen.
Overall, picture browsing is decently fast and smooth, but the zooming is rather slow. It takes about a second on each zoom step even when dealing with 3 megapixel photos, let alone higher-res ones. At least the panning is OK.
File manager is still really capable
The file manager is yet another aspect where the pedigree counts big time. With the soft keys at the bottom you can almost forget that you are looking at a new device.
The Symbian file management system has been top notch for quite a while now, and you can hardly think of anything to change. The application can basically do anything you can think of with your files - moving, copying renaming, sorting or sending - you name it. You can also password-protect your memory card if you see fit.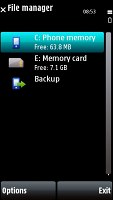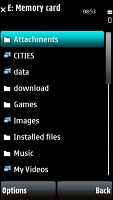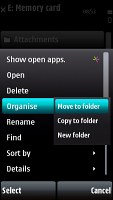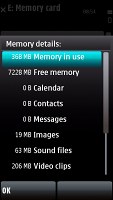 The file manager has extensive functionality
The searching for a specific file or directory is also available with the phone. All you need to remember is a part of the desired name and where it was located (phone memory or memory card) the 5800 XpressMusic will find it in no time.
On the negative side, there is no drag and select multiple items on the Nokia 5800 XpressMusic like on Windows Mobile devices. This is the one feature that does need touchscreen to be implemented and yet Nokia engineers left it out.
Disappointing camera
Nokia 5800 XpressMusic has a 3.15 MP camera with a maximum image resolution of 2048x1536 pixels. Carl Zeiss optics and the dual-LED flash might have you hoping for at least above average image quality. If that's the case, you're in for quite a disappointment. The XpressMusic handset is clearly not much of a shooter.
The camera key is OK to work with, and that probably is the best thing to say about imaging.
The camera UI has been significantly altered but hardly for the better, we're afraid. All the settings are now squeezed in a common menu, except for the flash, which has its own dedicated shortcut. We understand that a tabular layout wouldn't be possible with this device but some of the more important features could have had their own shortcuts too.
At least the range of settings that the Nokia 5800 XpressMusic offers is extensive enough: from manual white balance and ISO to exposure compensation, sharpness and contrast. Various effects are also at hand, labeled color tones.
We were quite surprised to find that Nokia 5800 XpressMusic does not support geo-tagging despite the presence of a built-in GPS on board.
Update, 09 Feb 2009: Geotagging has been added with an official firmware update v20.0.0.12 available to end users via Nokia Software Updater application.
The viewfinder doesn't take the whole screen - a bar on the right is reserved for the touch controls. You have a settings button that launches a semi-transparent overlay of all available shooting options, a dedicated Flash button and an on-screen shutter key. Now, that last one is absolutely redundant - it doesn't have a half press/full press action to properly handle auto focus. It would've been way better to have a Quick Settings button instead.
The picture quality of Nokia 5800 XpressMusic is our main concern though. It falls well below the average performance of the 3MP cameras. The images look bad even on the portable screen itself let alone on a desktop computer.
Noise levels are well above acceptable and the amount of resolved detail fails to impress. The contrast and dynamic range are decent and the colors are relatively precise though.
Truth be told, the camera is hardly the Nokia 5800 element. If taking photos with your mobile phone is your thing you should definitely look elsewhere. However if you only take an occasional shot every now and then, the camera is by no means a deal-breaker.
We've prepared an impromptu shootout between the Nokia 5800, Sony Ericsson C510 Cyber-shot and Sony Ericsson K810. Both of the Sony Ericsson devices have 3 megapixel auto focus cameras and the K810 even sports a xenon flash instead of a dual LED one.




Nokia 5800 XpressMusic • Sony Ericsson C510 • Sony Ericsson K810




Nokia 5800 XpressMusic • Sony Ericsson C510 • Sony Ericsson K810




Nokia 5800 XpressMusic • Sony Ericsson C510 • Sony Ericsson K810
The following test shows the flash performance of all four phones from approximately 1m distance:




Nokia 5800 XpressMusic • Sony Ericsson C510 • Sony Ericsson K810
The second flash test shows the flash performance from an approximate distance of 2.5m:




Nokia 5800 XpressMusic • Sony Ericsson C510 • Sony Ericsson K810
Here are also several macro samples from the Nokia 5800 XpressMusic camera. The phone has really failed to get the colors right and the contrast is also inadequate.





Nokia 5800 XpressMusic camera samples
VGA videos sound sweet
Video recording is the better part of the Nokia 5800 XpressMusic imaging skills. The phone can shoot VGA footage at 30fps. Sounds like good quality and it very well is. The good frame rate makes things all the sweeter.
Videos are captured in MPEG-4 format and can have automatic or manual white balance. The other available settings are night mode, exposure and color effects. You can also have the dual-led flash on to act as a video light.
Here is a sample video for you to check out.