Young as you feel
Nokia 5800 XpressMusic review: Young as you feel

Gaming: Accelerometer in the focus
Accelerometer-based games were expected to be the focus of Nokia 5800 XpressMusic. Truth is, our unit only came with two preinstalled games and only one of them could make use of the orientation sensor. Moreover, control isn't nearly as precise as we hoped it to be and, while the big screen is certainly a welcome advantage, touch-operated devices are no match for a regular keypad when it comes to gaming.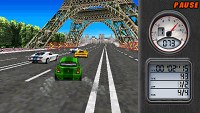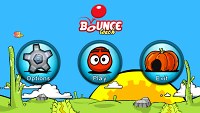 The two games that came preinstalled on our handset
You can also download an extra free game at the Nokia download center and several manufacturers have already come up with their own titles. You will have to spend some cash on the latter, though. Java games can also be considered an option but finding ones that run fullscreen would be a hard job (or better yet a lost cause).
The Nokia 5800 XpressMusic doesn't have N-Gage gaming support, so if you are after that, you'd be better off with an N-series device.
Third-party applications
At the time of writing of this review, there are not many third-party applications for the Nokia 5800 XpressMusic. The Symbian S60 5th edition is just too new. Back in the day when S60 3rd edition was first introduced the situation was pretty much the same. We had to wait a good six months before a reasonable amount of application became available.
Now the S60 5th edition is not totally incompatible with the S60 3rd edition apps. It's just that their behavior is rather unpredictable.
We tried running the Symbian version of Google Maps for Mobile for example and it ran just fine despite the incompatibility warning. It even had nice thumbable controls and made use of the built-in GPS receiver.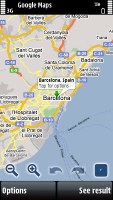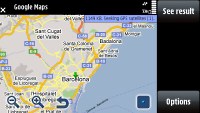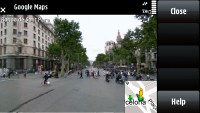 Google Maps runs nice in fullscreen mode • Street View
In the same time the native version of the Opera Mobile 9.5 web browser started just fine but did not respond to any of the touch input on screen.
So naturally, in times like these, users turn their attention to the Java world. We tried several Java applications with variable level of success (due to the touchscreen and high resolution). The good news however is that all Java titles can run in landscape mode too.
The Opera Mini web browser ran almost flawlessly and we were pretty happy with it. It was running fullscreen, it accepted touch command easily and it also allowed for auto screen rotation.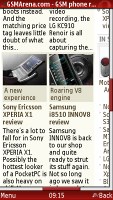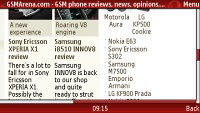 Using the Opera Mini Java application is really nice
The same goes for Gmail for Mobile.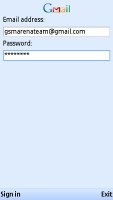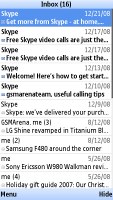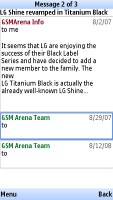 Using Gmail for Mobile Java app
With all Java games, the handset offers a virtual D-pad and gaming A, B, C, D buttons so you can make use of non-touch-enabled games. There's an option to hide those controls, but that doesn't mean you will be able to play Java games fullscreen - they have fixed resolutions.
One of the Java game titles that we tried (Prince of Persia) had a special version for 5800 and accepted touch commands. The other Java titles (intended for QVGA resolution) required the use of the virtual controls (which in one case were not sufficient).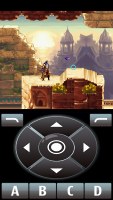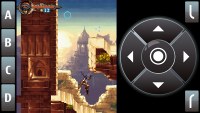 Playing the touch-enabled Prince of Persia still gets you the virtual controls
So summing it up, the Nokia 5800 XpressMusic third-party application support is a mixed bag and you have to either test applications for yourself or turn to the online forums for a heads-up.
GPS is very good
Nokia 5800 XpressMusic comes with a built-in GPS receiver and judging on our experience it seems a highly sensitive unit. The handset managed to acquire satellite lock from cold start in a moving car in about two minutes which is basically as good as it gets. A-GPS might have sliced a few additional seconds from that time had it been turned on.
The large high-resolution screen sounds like a serious premise for reasonable use as a dedicated navigation unit. Unfortunately, the 5800 XpressMusic has no free voice guided navigation, unlike most other Nokia GPS-enabled devices recently, but that could be expected with that kind of price tag.
The phone also comes with Nokia Maps 2.0 Touch preinstalled. As you might have guessed this is merely a touch-enabled version of the standard Nokia Maps 2.0 application. It offers extensive map coverage for free but you do need to pay for most of its extra features such as traffic information or city guides.
As we just mentioned you will also have to buy the voice-guided navigation license, should you pick the application for the purpose. At least the actual purchase itself is quite simple directly via the phone interface. If you prefer an alternative navigation software, you might want to carefully look around for a compatible version.
The touch-enabled Nokia Maps application itself is doing pretty well in terms of features too. It has four different view modes including satellite and hybrid maps. Those however do need an internet connection. The more regular 2D and 3D view modes are also at hand.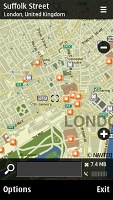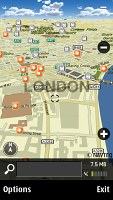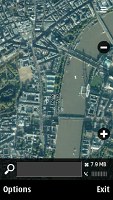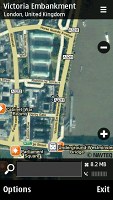 Nokia Maps 2.0 Touch application offers four view modes
The route planning algorithm is also rather easy to customize to best suit your preferences. Toll roads and motorways can be avoided and so can tunnels and ferries. Route selection can be set to either fastest or shortest. The app is also usable for pedestrian navigation or you can switch the GPS receiver off and use the phone as a hand-held map.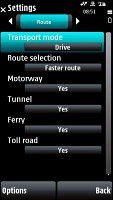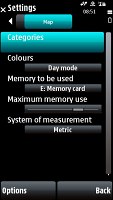 Some of the available settings
However, we do have some to say about touch implementation. The lack of a dedicated shortcut on the screen means you need to enter the options menu to center the map back to your current position after you have panned in some direction - in a regular keypad handset, the 0 key will take care of that. On the positive side, panning and zooming in the maps is really fast and the high-res screen is capable of showing quite a lot of data.
Update, 03 Feb 2010: One of the biggest upgrades to Nokia 5800 XpressMusic is that since January 2010 all Nokia GPS-enabled Symbian handsets have free lifetime voice-guided navigation. To make use of that, the users of devices running S60 3.2 or later (and that includes all touch devices) need to download the latest 3.3 version of Ovi Maps (that's how the Nokia Maps is known now).
Ovi Maps navigation is currently available in 74 countries and 46 languages, with even traffic information for more than 10 of those. In addition Nokia have also substantially upgraded the Ovi Maps application itself, so it now packs a cooler looking interface, the Lonely planet city guide and Michelin restaurant guide with lots and lots of points of interest. There's also an events guide that lists all events happening within a 3km radius of your position and provides you with details on each one.
You can download the latest update from the Ovi Store or from here.
Final words
OK then, what we have here is two newbies in the touchscreen league. A fact's a fact, but it's not exactly the kind of newbies everyone will look down at. Market leaders Nokia and the top selling smartphone platform must be ready to take a few beatings at the start of season but will hardly settle in for a long losing streak.
The competition is already in their second or third generation of touchscreen devices so the battle will be tough. Apple, WinMo, Samsung and LG have statistics in their favor. What's more, the number two manufacturer, Samsung, is also into S60 so Nokia may as well be taking due precautions against getting beaten in their own game.
That said, introducing a mid-range handset to debut the touch-enabled S60 sure looks a smart move. It lowers the expectations (flaws are less of an issue) and makes sure the platform sells well so that it can build up a wider user and developer base. And once it has enough reach - and testing time - the real flagship descends to reap the benefits.
For an even more effective camouflage, there goes the XpressMusic branding. And Nokia have done well to eclipse potential touch UI glitches with the best audio quality the house has pulled off to date. Not least, the Comes with Music service does get a boost too.
Anyway, at the end of this review we still feel Nokia 5800 is a worthy deal. Sure you get an interface that's immature, inconsistent and quite clumsy but the package you get for that kind of cash is a bargain and even Nokia's sworn enemies admit that.
The full house retail box and the highly competitive sub-300 euro price against most of the touchscreen competition should be enough of a motivation. It's also likely for third party applications to grow at a frantic rate over the next couple of months, as the market for them gets larger and larger.
And you can bet that there's a bargain at the other end too. Nokia's gain is feedback on its new Touch UI. We just hope that feedback gets smartly used.