The first preview of the highly anticipated Nokia 5800 XpressMusic appeared today. The handset isn't expected to make its first official public appearance before October 2nd but its specs are now almost completely revealed.
Formerly known as Nokia Tube, the first S60 handset to feature touchscreen technology will run on the new edition of the OS - Symbian S60 Taco 5.0. Despite packing a generous 3.2-inch screen with the exciting widescreen resolution of 640 x 360 pixels Nokia 5800 XpressMusic will be more of an upper midrange than a high-end device. It will come complete with a 3.2 megapixel autofocus shooter, and will be able to capture videos at up to VGA resolution at 30 fps.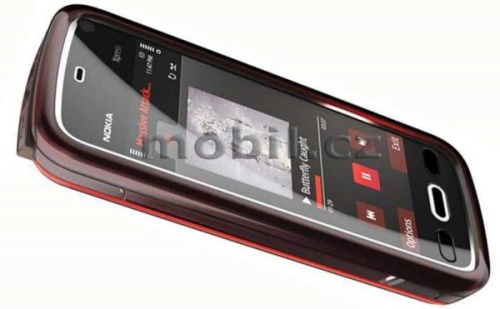 Nokia 5800 XpressMusic
The Nokia 5800 will measure 111 x 52 x 15.5mm and will come with quad-band GSM support and 3G with HSDPA. The weight is also quite acceptable, standing at 109 grams. Some of the other extras include: GPS, 3.5mm standard audio jack, TV-out and a microSD card slot. According to the reviewer the handset will also have an 8GB card included in the retail package, just like Nokia N85.
With only 8 days to go until the Nokia 5800 XpressMusic official annoncement you can bet we are just excited as you are to take a look at it. However we can't help ourselves but wonder why Nokia didn't come up with a high-end device as a pioneer for its new OS as it would have demonstrated its capabilities that much better.
K
This phone is now official it has been revealed at the nokia London remix show today! but the thing is gsmarena haven't shown this? the nokia 5800 xpress music (the official name) is a amazing phone with the best multimedia capabilities eve...
?
I think no one is trying to bother about the kind of battery such a huge screen is going to eat up! Also dont forget, its a touch screen- so more battery consumption + 3G- even more battery consumption....If this phone has to stay in the market, Noki...
?
QUOTE ************** you are talking about one kind of phone ?one kind iphone and you said it by your self 10m phone with one phone from apple not like nokia many many kinds and taps and color o30 o40 and o60.....?so that which phone is more hig...
ADVERTISEMENTS