The 5.5-inch FullHD display doesn't disappoint
The Nokia 6 doesn't have a 6-inch display as the name might suggest, but we're sure you already know that if you've read this far. It's 5.5 inches instead, in 1080p FullHD variety. It's an IPS LCD panel with Gorilla Glass 3 on top, ending in 2.5D curves. The microscope shot revealed a conventional RGB subpixel arrangement, no surprises there.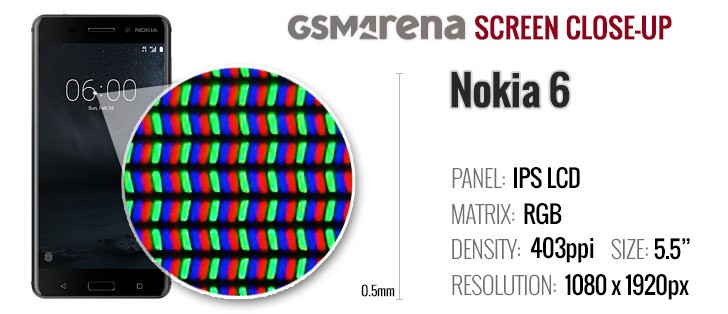 Nokia claims 450nits of brightness, but we actually measured more - 522 is the number in our test. Few of its competitors in this price bracket are any brighter - only the Moto G4 Plus in auto mode and the Honor 6X. Minimum brightness on the Nokia is a respectable 1.9nits, too.
Contrast is also good - the Nokia 6's 1385:1 is practically the same as the HTC 10 evo - a decidedly more premium offering. The Honor 6X tops that, but the Redmi Notes by Xiaomi can't really match it.
Display test
100% brightness
Black, cd/m2
White, cd/m2
Contrast ratio
Nokia 6 (Chinese version)
0.377
522
1385
Xiaomi Redmi Note 4 (X20)
0.38
439
1158
Xiaomi Redmi Note 4 (S625)
0.322
484
1503
Xiaomi Redmi Pro
0.00
408
∞
Xiaomi Redmi Note 3 (MediaTek)
0.42
403
953
Huawei Honor 6X
0.321
579
1804
Samsung Galaxy J7 (2016)
0.00
353
∞
Samsung Galaxy J7 (2016) outdoor mode
0.00
484
∞
Motorola Moto G4 Plus
0.33
478
1448
Motorola Moto G4 Plus (max auto)
0.43
587
1365
Lenovo Moto M
0.3
425
1417
Lenovo P2
0
346
∞
Lenovo P2 max auto
0
510
∞
Meizu M5 Note
0.614
463
754
The Nokia 6 also fares quite well in our sunlight legibility test as well. A value of 3.244 puts it among the better performing LCDs.
Sunlight contrast ratio
Samsung Galaxy S6 edge+
4.615
Samsung Galaxy S7 edge
4.439
OnePlus 3
4.424
Samsung Galaxy S7
4.376
HTC One A9
4.274
Samsung Galaxy Note7
4.247
Samsung Galaxy A3
4.241
OnePlus 3T
4.232
Google Pixel XL
4.164
ZTE Axon 7
4.154
Samsung Galaxy S6 edge
4.124
Samsung Galaxy A7 (2017)
4.124
Samsung Galaxy Note5
4.09
Huawei Nexus 6P
4.019
OnePlus X
3.983
Vivo Xplay5 Elite
3.983
Oppo R7s
3.964
Apple iPhone 7
3.964
Huawei P9 Plus
3.956
Meizu Pro 6 Plus
3.935
Lenovo Moto Z
3.931
Samsung Galaxy A7 (2016)
3.918
Samsung Galaxy C5
3.911
Samsung Galaxy C7
3.896
Samsung Galaxy A5
3.895
Samsung Galaxy J7 outdoor
3.879
Samsung Galaxy J2 outdoor
3.873
Samsung Galaxy A8
3.859
Samsung Galaxy A9 (2016)
3.817
Motorola Moto X (2014)
3.816
Samsung Galaxy A5 (2017)
3.804
Samsung Galaxy J7 (2016) outdoor mode
3.802
Xiaomi Redmi Pro
3.798
LG V20 Max auto
3.798
Sony Xperia XZ
3.795
Samsung Galaxy A5 (2016)
3.789
Apple iPhone 6s
3.783
Meizu Pro 5
3.781
Microsoft Lumia 650
3.772
Samsung Galaxy J7 (2016)
3.756
Oppo F1 Plus
3.709
Vivo X5Pro
3.706
Sony Xperia X Compact
3.694
Samsung Galaxy A3 (2017)
3.688
Apple iPhone SE
3.681
Huawei Mate 9
3.68
Samsung Galaxy A7
3.679
Meizu PRO 6
3.659
BlackBerry Priv
3.645
Apple iPhone 7 Plus
3.588
Apple iPhone 6s Plus
3.53
Motorola Moto Z Play
3.526
Samsung Galaxy J3 (2016)
3.523
Samsung Galaxy J3 (2016) outdoor mode
3.523
Acer Jade Primo
3.521
Microsoft Lumia 950
3.512
Oppo R7 Plus
3.499
nubia Z11
3.466
HTC U Ultra
3.453
Samsung Galaxy J7
3.422
Meizu MX5
3.416
LG V20
3.402
Huawei P10
3.379
Oppo R9s
3.352
Oppo R7
3.32
Lenovo P2
3.316
Xiaomi Mi 5s
3.276
Nokia 6
3.244
Samsung Galaxy J2
3.235
Sony Xperia X Performance
3.234
Xiaomi Mi Note 2
3.228
Motorola Moto X Play
3.222
Huawei Mate 9 Pro
3.206
Huawei P9
3.195
Lenovo Vibe Shot
3.113
Motorola Moto X Force
3.105
LG Nexus 5X
3.092
Huawei Mate S
3.073
Microsoft Lumia 640 XL
3.065
Sony Xperia X
2.989
Huawei Mate 8
2.949
Xiaomi Redmi 3S
2.913
Sony Xperia XA Ultra
2.906
LG G5
2.905
HTC One S
2.901
Xiaomi Redmi 3s Prime
2.893
Xiaomi Mi 5s Plus
2.884
Sony Xperia Z5
2.876
Microsoft Lumia 550
2.851
Lenovo Moto M
2.813
Xiaomi Redmi 3 Pro
2.803
Sony Xperia Z5 compact
2.784
Meizu MX6
2.751
LG V10
2.744
Xiaomi Redmi 3
2.735
Xiaomi Redmi Note 4 (S625)
2.714
Meizu M5
2.71
Sony Xperia M5
2.69
Huawei P9 Lite
2.679
Xiaomi Redmi 4 Prime
2.679
Vivo V3Max
2.659
Xiaomi Mi Mix
2.658
Xiaomi Mi 4i
2.641
Sony Xperia XA
2.609
Motorola Moto G4 Plus
2.582
Motorola Moto G4 Plus (max auto)
2.582
Meizu M5s
2.58
Xiaomi Mi 4c
2.574
LeEco Le Max 2
2.567
Microsoft Lumia 640
2.563
Asus Zenfone 3 ZE552KL
2.563
Lenovo Moto G4
2.544
Lenovo K6 Note
2.544
Oppo F1
2.528
Sony Xperia Z5 Premium
2.525
Huawei Honor 7 Lite / Honor 5c
2.506
Sony Xperia M4 Aqua
2.503
Oppo F1s
2.481
Motorola Moto G
2.477
Lenovo Vibe K5 Plus
2.473
Huawei G8
2.471
Huawei nova
2.467
Sony Xperia Z
2.462
Lenovo Vibe K5
2.459
Meizu m3 max
2.447
HTC 10 evo
2.407
Huawei Honor 7
2.406
Sony Xperia E5
2.386
ZUK Z1 by Lenovo
2.382
HTC 10
2.378
Samsung Galaxy J5 (2016)
2.378
vivo V5 Plus
2.371
Meizu m1 note
2.362
Huawei nova plus
2.329
HTC One E9+
2.305
Alcatel One Touch Hero
2.272
Lenovo Vibe K4 Note
2.254
Sony Xperia C5 Ultra
2.253
Xiaomi Redmi Note 3 (MediaTek)
2.249
Sony Xperia C4 Dual
2.235
Xiaomi Mi Note
2.234
Motorola Moto G (2014)
2.233
Huawei P8
2.196
Meizu M5 Note
2.189
Huawei Honor 6
2.169
Xiaomi Redmi Note 2
2.166
OnePlus Two
2.165
HTC One X
2.158
LG Aka
2.145
Xiaomi Redmi Note 4 (X20)
2.145
Archos 50 Diamond
2.134
Xiaomi Redmi Note
2.119
Acer Liquid X2
2.084
Huawei P8lite
2.078
vivo V5
2.059
Moto G 3rd gen max manual
2.026
Xiaomi Mi Max
1.996
Sony Xperia E4g
1.972
OnePlus One
1.961
Meizu m3 note
1.923
BlackBerry Leap
1.892
Meizu m2 note
1.892
ZTE Nubia Z9 mini
1.759
Sony Xperia U
1.758
Asus Zenfone Selfie
1.68
Motorola Moto E (2nd Gen)
1.675
ZTE Nubia Z9
1.659
Jolla Jolla
1.605
Motorola Moto E
1.545
Sony Xperia M
1.473
Sony Xperia L
1.351
HTC Desire C
1.3
Sony Xperia C
1.283
Meizu MX
1.221
Sony Xperia E
1.215
As for color accuracy, the Neutral mode isn't all that neutral, with whites being shifted towards blue, but it has a decent average DeltaE of 5.3. Cool mode, you guessed it, makes whites even bluer and the average DeltaE jumps to 7.5. If you want the most faithful colors, warm mode's the way to go, with an average DeltaE of 3.3 and actually truly white whites for a change.
Connectivity
The Nokia 6 is a dual-SIM device of the hybrid variety - you can have two nanoSIMs inside, but if you want to use the microSD slot, you'd have to give up the second SIM. Courtesy of the Snapdragon 430 chip, the phone supports Cat.4 LTE for theoretical maximums of 150Mbps down and 50Mbps up. That's just the one SIM though, the second card only gets 2G connectivity.
Local connectivity is well covered as well - Wi-Fi a/b/g/n/ac and Bluetooth v.4.1 are present, there's GPS and GLONASS for positioning, and to top it all off - the crowd-favorite, FM radio.
The Chinese spec sheet lists NFC as well, but we didn't find it in settings, nor did it miraculously work when we attempted to put the Nokia 6 next to other phones. The phone's metal back also makes it seem like someone made a mistake in the specs. That's something we'll surely look into once we got a review unit of the global version.
The USB port on the bottom is the old one, though - the trusty but headed for obsolescence microUSB 2.0. Oldies, but goldies - the 3.5mm jack is here too.
Nokia 6 battery life
The Nokia 6 is powered by a 3,000mAh battery. In this age where 5.5-inch Redmi Notes come with 4,100mAh power packs, the 6 appears under-prepared. The Galaxy J7 (2016) and the J7 Prime each have 3,300mAh worth of juice, while the Honor 6X' specsheet says 3,340mAh. That said, the likes of the vivo V5, Moto G4 Plus, and Oppo F1s are around the 3,000mAh mark, just like the Nokia.
On to the actual tests, and the Nokia 6 does an admirable job with what it has. Twenty-two and a half hours on a 3G phone call should be plenty for all but the most talkative. Those should look in the vivo V5's direction - that one's capable of 5 more hours of voice calls, or the Oppo F1s (26h).
Video playback longevity on the Nokia 6 is 10 full hours. The Galaxy J7 (2017) does 18h, but that's an exception rather than the rule. The Honor 6X outlasts the Nokia by 3h, but those two outliers aside, the 6 is about average.
In Wi-Fi web browsing the Nokia 6 keeps reloading them sites for nine and a half hours - again, not an exceptional performance, and somewhat trailing the competition, but not too shabby on its own either. The Oppo is good for another hour, the Moto G4 Plus adds half an hour on top of that, and the Galaxy J7 (2016) posts 12:21h. The Honor 6X calls it quits after 13:41h, but it's also good to keep in mind that the vivo V5 barely made it through the 5-hour mark.
While those tests aren't really influenced by the fact that they were carried out on the Chinese version of the phone, and are very likely to be the same on the global variant, standby is inevitably affected by the lack of Google services and Google apps. That means no constant syncing of emails and background app updates. On the other hand, the Chinese app store could have taken a bigger toll on the battery - we can't know for certain. And since standby battery drain is part of the formula for overall endurance, the Endurance rating of the global Nokia 6 may be different. We'll see; this one got 75 hours.
Update (August 16): While reviewing the global version of the Nokia 6 we also retested the Chinese one - a firmware update in the months since the original review brought support for Google services and we figured using them could have an impact on battery life. Well, it did, in a way.
While the active usage tests remained uninfluenced and produced virtually the same results, standby took a substantial hit (we attribute it to the constant syncing of stuff), so the overall endurance rating dropped by 8 hours to 67h. It's still a little better than the global version's result, more on which you can read in its own review.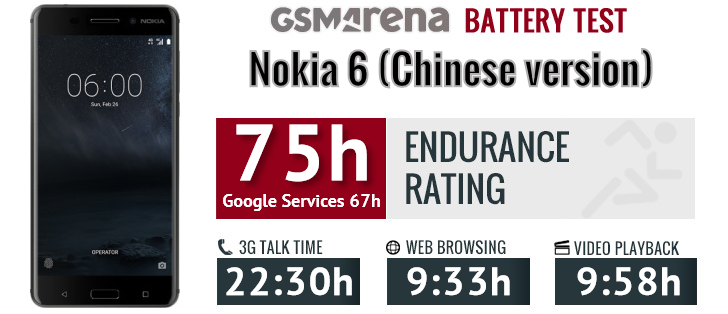 The battery testing procedure is described in detail in case you're interested in the nitty-gritties. You can also check out our complete battery test table, where you can see how all of the smartphones we've tested will compare under your own typical use.