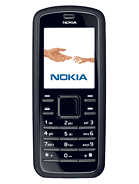 m
cheap, reliable,simple, easy to use fashion phone + camera, radio ... good ideea, thumbs up
B
I just loved this phone specification. It's perfect. I was thinking to buy the Nokia 6101, but I don't like flip phones, so I was expecting something with its especification and no flip from Nokia. I got my wishes!!!
B
i am waiting for this phone to replace my 6030, i think it will fit my needs and it's a nice upgrade from my phone.
a
interesting design, quite retro and conservative, the features are ok but will probably suit the price, so if you take this into account its doesnt seem to be a bad phone...
c
finally, the succeros of 6020 has arrived, good lookin phone but, why only 4.3 mb internal memory?? but fine, estimation price is Rp. 1.650.000,-. in Medan.
n
Nokia do it again, another low-end device with mp3s ringtones an VGA camera with.... only 4,3 mb. It would be great if nokia raise his 4 mb to.... at least 8 mb.
D
What a load of rubbish.. a really poor screen and minimal feature set. It's over-priced too.
Total of 334 user reviews and opinions for Nokia 6080.