Music comes second
As you might have expected, the music player has nothing extraordinary to show us. A little facelift of the Symbian classics is the only novelty in the player in Nokia 6110 Navigator. It is very convenient indeed, and manages audio files and playlists seamlessly. Furthermore, the convenient sorting by genres, artists, etc. is also present here, so you will have no problem organizing your favorite songs.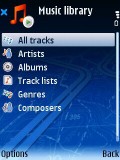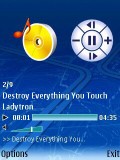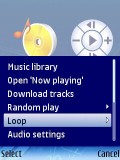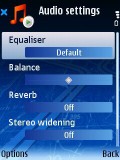 Music player handles playlists seamlessly • The looks have changed a little but functionality remains the same
Four different equalizer presets are available, but if they don't seem enough, there is an option for creating new ones or editing the already existing. Other audio settings include bass boosting, stereo widening and reverberation and this is quite enough considering the fact that Nokia 6110 is not among the music-centered phones of the Finnish company.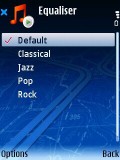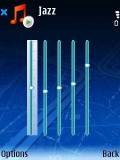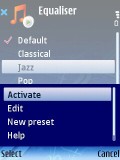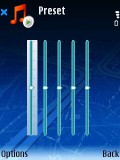 The preinstalled equalizer presets • The existing presets can be edited and new ones can be created
Where the phone really lacks is the audio quality of the sound produced by the audio jack. We have done several tests and we noticed that when the phone's volume is at its top levels it behaves very badly in terms of frequency response and total harmonic distortion (THD). If the volume is reduced, the performance in these two components improves but at the expense of worse noise and the dynamic range figures.
| | | | | |
| --- | --- | --- | --- | --- |
| Test | Nokia 6110 Navigator full volume | Nokia 6110 Navigator at reduced volume | Nokia Prism 7500 | Samsung U600 |
| Frequency response (from 40 Hz to 15 kHz), dB: | +0.60, -1.82 | +0.48, -1.46 | +1.10, -1.50 | +0.41, -1.12 |
| Noise level, dB (A): | -75.1 | -66.5 | -72.8 | -89.2 |
| Dynamic range, dB (A): | 74.9 | 66.4 | 74.2 | 86.5 |
| THD, %: | 0.423 | 0.017 | 0.016 | 0.0040 |
| IMD + Noise, %: | 4.467 | 0.161 | 0.088 | 0.019 |
| Stereo crosstalk, dB: | -75.0 | -67.0 | -72.0 | -86.9 |
Frequency response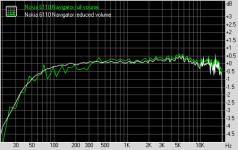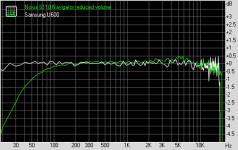 Nokia 6110 Navigator response graphs at maximum and at reduced volume • Nokia 6110 Navigator vs Samsung U600
You can find more info about our test here.
Video scores a mark
A Flash player and a Real player handle the needs for playing videos on Nokia 6110 Navigator. Naturally, you can play the videos fullscreen. The videos play nice and smooth in the Real player, so if you are among the people who do watch videos on their phones you won't be disappointed with this device.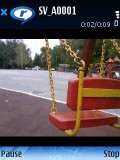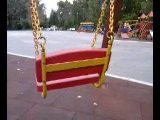 The Real player allows watching in fullscreen
Gallery
The gallery in Nokia 6110 is quite regular in terms of functionality. We are missing the better looking rotating gallery from the N-series but that is definitely not a big deal. The pictures can be viewed in both portrait and landscape mode and can be zoomed in if you wish to see more detail. Picture editing also allows quite a good range of features.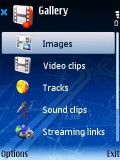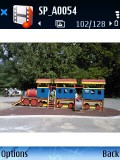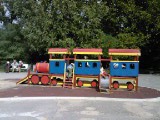 You all know what the gallery on a Symbian phone looks like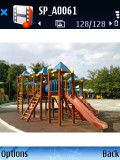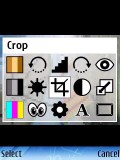 Picture editing has 15 modifying options
Furthermore, the gallery has good file-management and allows selecting and sending of multiple files at a time. Besides, the smartphone has the usual file manager that does a great job when it comes to filtering files according to the memory used, and marking, moving, copying and managing files. As for application management, there is also a separate Application manager. The latter is the well known pop up menu that comes up upon a long pres of the menu key in Symbian Series 60 devices.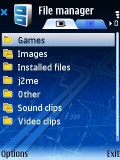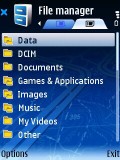 File manager is very convenient, just as usual
Unluckily, Nokia 6110 Navigator doesn't have the "Search" application among its preinstalled content. You can either download it additionally from Nokia's website or you will have to be very careful when organizing your files unless you want to spend ages looking for them later.
| | |
| --- | --- |
| Where the phone really lacks is the audio quality of the sound produced by the audio jack. We have done several tests and we noticed that when the phone's volume is at its top levels it behaves very badly in terms of frequency response and total harmonic distortion. | ADVERTISEMENTS |
Picture spree
The Navigator is armed with a 2 megapixel camera hidden under a stylish metal cover. It is complete with a LED flash, placed at the side of the lens. Sadly, the camera lacks autofocus. The interface is decent looking and easy to use but doesn't allow a great number of configurations. You can select the white balance and the effects applied to the picture. The effects here are referred to as color tones but the functionality is the same. The flash can be used as a fill light, as there is an option to force it to work regardless of the light conditions. There is also a setting for the image quality which can be set to one of three levels - basic, normal and high. The secondary camera can be used for shooting self-portraits or for taking pictures to add to your contacts details. It takes pictures in QVGA resolution, which should be just fine for that purpose.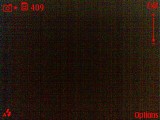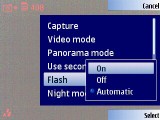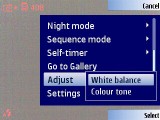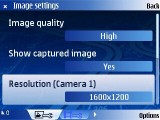 Camera interface and some of the available options
The image quality of the camera on Nokia 6110 Navigator is at a good level, given its hardware characteristics. It is a class above Nokia 7500 Prism for example, but the lack of autofocus doesn't allow it to stand up to the best 2 megapixel cameras. Here are some samples, so you see for yourselves what the Navigator's camera can do.




Sample photos taken with the camera of Nokia 6110 Navigator
Video can also be taken with both cameras. The primary camera records video in QVGA resolution, while the secondary only manages QCIF. There is no limit to the video length, except for the free phone memory.