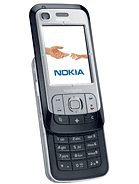 m
very nice looking, symbian, GPS, very good screen, Li-Po batery and NO MP3 RINGTONE!!!
a
cool phone from nokia...
i hope the sliding mechanism used in this handset is not the same in n80...

cant wait to have this...
T
Cool yor jets...It's Nokia we are talking about. UK residents may see it b4 the iPhone version 2.
B
Hey guys, Please let me know the approximate cost of Nokia 6110 Nevigator
T
Nokia 6110 Navigator, any body tell me when this mobile come in market,and available for purchasing.I am so excited about this mobile.Touch to heart through eyes.
w
wow..at last, nokia designed n start to sell a GPS phone..i been waiting like hell for tis day to come..as least now, i can forget about buying a PPC phone:)
?
A GPS phone other than the N95, im all over it.
I have o2 stealth, and i never used the wifi, so who care
I will return my GPS and use the money to get this phone :D
C
Who gives a crap about how many MP these phones come out with.... as long as they use crappy lenses... their 5+ mp will be worthless...
C'mon guys wake up... its not about the MP.. its ALL about the LENSE..!!
D
answer : 6110 NAV got better GPS than N95 has UPTO 5 sattiltes a time and turn to turn voice ANDDDDDDD LIVE TRAFFIC UPDATES than N95 doesnt have
s
quite a cool phone but how hard is it to put a 3.2mp camera in it like n73?
?
why do all critisiez SE beacuse didn't offer a 5mpx camera??
what about nokia??
they have N95, but SE will soon relise phone with 5mpx camera.
and Nokia still has almost all phones with 2mpx camera so why do you critisiez only SE?????
a
lovely design but why didn´t they put wifi? ohh of course we know the answer: if u need wifi the u just need to go for n95!
D
on the GPS thing it says upto 5 salites connect up and it gives u LIVE traffic updates and also TURN to TURN through the loud speakers its truely amazing
Total of 1595 user reviews and opinions for Nokia 6110 Navigator.